Martins of Rushestown
mad in pursuit family history
Catherine and Her Sisters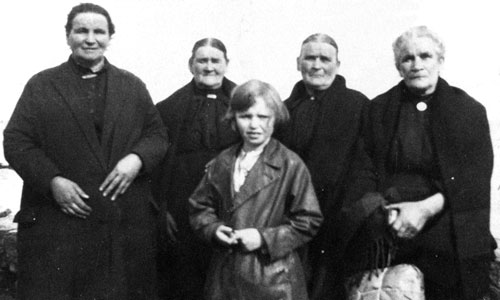 The photo was taken at the Salt Hill seaside resort, on Galway Bay near Galway City, where Catherine Martin Dunne, her two sisters and sister-in-law took an annual holiday at the Glen View guesthouse owned by Teresa Costello. They economized by bringing all their own food and by providing Teresa with hunks of salted and cured pork from their farms.
Theresa Costello was the aunt of John Joe Kelly. John Joe was married to Philomena Stephens, Catherine's granddaughter.*
The hardworking sisters, taking a well-deserved annual break from farming and children, have been an inspiration to generations of daughter.
Updated 10.21.09
NOTES
Photo (L to R): Sister-in-law Mary Crehan, Mary Martin Coughlin, unknown girl, Catherine Martin Dunne, Nora Crehan.
*Info provided by Martina Kelly, grand-daughter of Mary Dunne Stephens