Mad in Pursuit Notebook
Sam Newham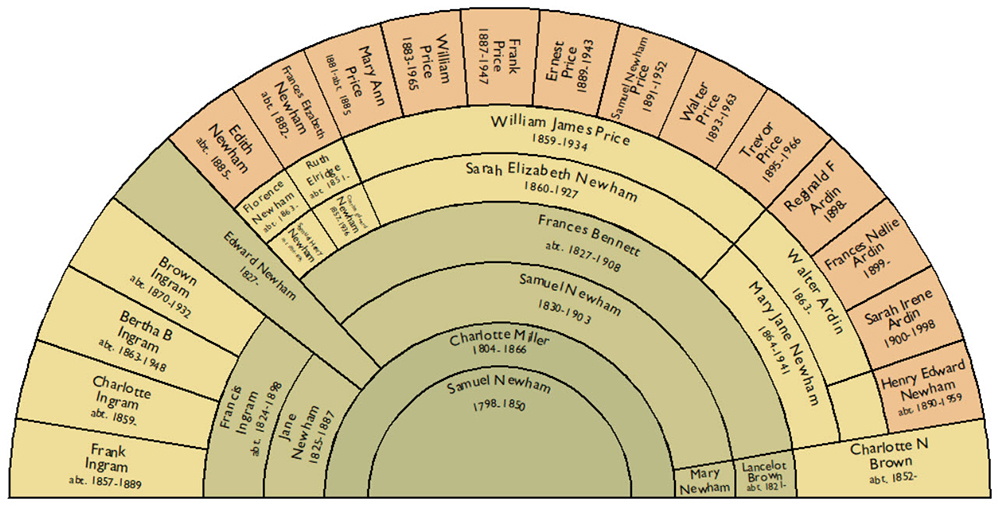 Samuel Newham, Senior: a Heartbreaking Turn of Events
Our great-grandmother Sarah Newham Price left England about 1884, at the age of 24, with her husband WJ Price, and their first two children. She left behind her parents Sam Newham and Frances Bennett, two brothers and a sister. She grew up in Witham-on-Hill, Lincolnshire (East Midlands), about 20 miles from where her father Sam grew up.
Samuel Newham was born in 1830 in the small East Midlands county of Northamptonshire, which is known for its shoemaking industry.
Northamptonshire's shoemakers have almost 900 years experience in making boots and shoes. The plentiful supply of oak bark and water for tanning, abundant supply of leather from local cattle markets and a central location for trading links has made Northamptonshire the perfect place for shoemaking to flourish. Over the centuries, our craftsmen and designers have perfected their skills, processes and materials to make the finest shoes. [Northamptonshire Boot & Shoe]
I first came across Sam's family in the 1841 census. His mother Charlotte (age 34) lived in the hamlet of Middleton and worked as a lacemaker to provide for her two children, Mary (12) and Sam (11). The oldest child Jane was working as a servant and Sam's elder brother Edward had died in 1838 at age 10. The children's baptismal records list their father as Samuel Newham (Sr.), who (like our Prices from Worcestershire) worked as a wheelwright (wheelmaker).
I didn't find Charlotte in 1851, but in 1861, she was living as a housekeeper in Wellingborough, Northamptonshire, and listed herself as "widowed."
I gradually put together the facts about Charlotte, one of five children born to Ann Glover (1772-1837) and James Hervey Miller (1782-1862). But what had happened to her husband, Sam Sr.? The English are pretty good with their death registries, but his demise hadn't popped up in my searches.
What did surface was a criminal record. In the adjacent county of Lincolnshire, on 30 Jun 1835, Samuel Newham was put on trial for cattle stealing and sentenced to life in "transportation." Not death, not imprisonment, not whipping, but -- "transportation"?
I learned that "transportation" meant being put on a prison ship and transported to Australia. Sam was fortunate because, prior to the 1830s, cattle stealing was a hanging offense. But stealing cattle may have been worth the risk for a poor man who lived in a region that thrived on the availability of leather.
It's likely that, as soon as he was convicted, he was wrenched from his young wife and four children and taken prisoner. According to Convict Voyages:
After sentencing, male convicts were removed to hulks.  These were decommissioned vessels anchored in ports in Plymouth, Portsmouth and on the Thames to be used as "mobile labour depots."  Convicts spent an average of 7 months on board hulks in cramped and damp conditions.  They spent their days working in gangs at hard labour like loading supplies onto vessels and draining riverbeds... It was in the best interests of the colony [Australia] to send only convicts who would survive the journey and be ready to undertake hard labour once there.
On 30 Jan 1836, Sam Sr. boarded the Elphinstone convict ship bound for Tasmania. He arrived on 24 May -- 118 days at sea, via Cape of Good Hope (Africa) and possibly Rio de Janerio (Brasil), The ship embarked with 330 men and arrived with 325.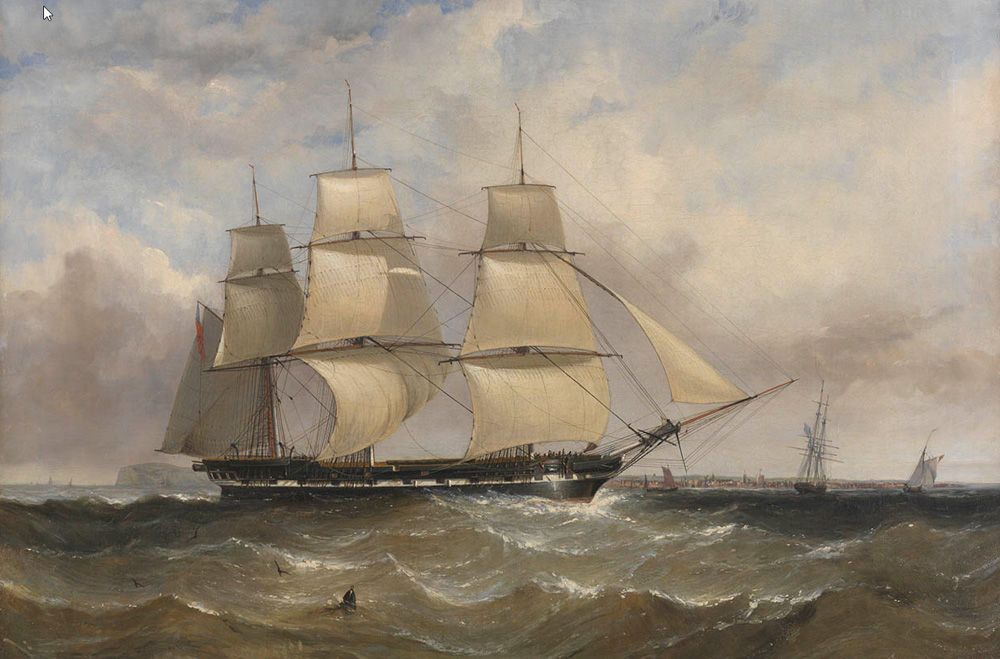 His prison record is on file with the Tasmanian government and is available through their LINC website. Their records describe him:
After 9 years of labor in the convict colony, our grey-eyed ancestor was granted a "ticket of leave" (parole) for good behavior and for apparently helping bring another cattle stealer to justice.
Tickets of leave allowed convicts to live and work for their own wages wherever they wanted to within a certain Police District. Tickets of leave were generally given to convicts with good behavior. Convicts became eligible for a ticket after a certain amount of their sentence had been served. Generally a convict became eligible after 4 years for a seven year sentence, after 6 years for a fourteen year sentence, and after 8 years for a life sentence. Once a year the convict had to report in at the ticket of leave muster or else the ticket was revoked. [Ancestry.com]
An 1849 register indicates that by then he had received a conditional pardon, which meant he was freed, but still required to live in the colony.
The ending of the story is this: Either I have the wrong Samuel Newham altogether or he was born again in Tasmania. The National Library of Australia sent me a copy of "THE GOOD SHEPHERD, OR, A SHORT ACCOUNT OF THE LIFE AND DEATH OF SAMUEL NEWHAM, WHO DIED AT SOMERCOTES NEAR ROSS, IN VAN DIEMAN'S LAND ON THE 26TH SEPTEMBER 1849." The 14-page booklet describes his triumph over sin and his glorious redemption. It describes him as a drunk, whose felony got him exiled and broke his father's heart. It did not mention a wife and four children left behind. Maybe that was Sam's secret shame or did not fit into the author's narrative of spiritual rebirth -- or I've mis-identified this character as my ancestor.
In any case, the Newham family carried on without him. His son Sam (5 when his father was convicted) became a master tailor, with four children of his own. Sam Jr.'s oldest child Sarah Elizabeth--our great-grandmother--was bold, organized, entrepreneurial, and remains an inspiration long after her death. We can only guess how her missing grandfather influenced her worldview.
9 Oct 2017 (rev. 11 Oct 2017)
***
---
THE SUDDEN SILENCE: A Tale of Suspense and Found Treasure (2015) Thailand: lovers of ancient treasure tangle with international black markets. Delia Rivera pulls Martin Moon back into the game and their quest turns deadly. In paperback and Kindle editions.
TRIBE OF THE BREAKAWAY BEADS: Book of Exits and Fresh Starts (2011) Time after time, Mary asks herself: Do I go or do I stay? She finds her power in her ancestors: Smart women turn discontent into action. An illustrated memoir in paperback and Kindle editions.
PASSION AND PERIL ON THE SILK ROAD: A Thriller in Pakistan and China (2008) The twin forces of revenge and redemption drive Nellie MacKenzie and Taylor Jackson on a crazed adventure into the heart of Central Asia. They grapple with issues of ethics, trust, rage, and bitter heartbreak -- as well as the intrigue of the international antiquities trade. In paperback and Kindle editions.
Connect:

All pages in this website by Susan Barrett Price are licensed under a Creative Commons Attribution-Noncommercial-Share Alike 3.0 United States License. [The snowstorm image at the top of this page came from Wikipedia, under a Creative Commons license.]