Mad in Pursuit Notebook
Today
William James Price: Immigrant Entrepreneur
Jan. 31, 2016. William James Price was born on Jan 31, 1859, in the small village of Sudbury, Derbyshire, in the West Midlands of England. On Feb. 23, he was baptized into the Church of England. He was the only child of James and Ann Nash Price, who were 27 and 28 when he was born. Their first son George had been born when Ann was 20, but he died in his infancy.
James had migrated to Sudbury up from Mathon, Worcestershire, and married into the large Nash family. (Ann was the fourth of eleven children.) His son William was named after his Uncle William and Ann's father William Nash.
Sudbury was in fact the Sudbury Estate, owned then and now by the Vernon family. Although James came from a family of wheelwrights and carpenters in Worcestershire, on the Sudbury Estate, the name of the game was agriculture and he became a farm laborer.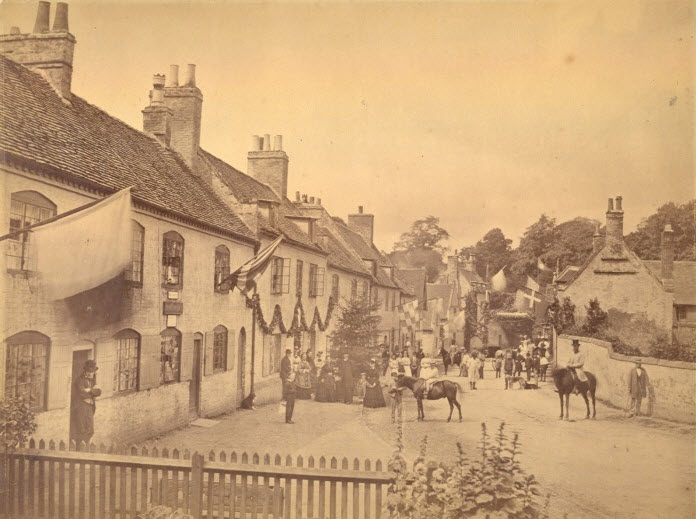 In the mid-19th century, English children won the right to a free education and the fourth Lord Vernon established schools for boys and girls on his estate. William attended the school and proudly held on to his graduation diploma all his life. According to some of the records I found, during William's time there were 70 to 80 boys of all ages enrolled and they were taught in a single room. In addition to formal schooling, they received clothing and vocational training, as well as release time to help their families with farm work during busy seasons, Maybe it was here that William's natural carpentry aptitude emerged.
William was working as a carpenter near Sudbury in 1881 when he met and married the love of his life, the 21-year-old Sarah Newham and they quickly had their first child, a daughter named Mary Ann. Two years later, shortly after their son Bill was born, WJ and Sarah decided to pick up and move to America.
It's a mystery what their connection to St. Louis, Missouri, was -- immigrants tend to cluster where friends and family have gone before them -- but the advantage was clear: it was the height of the Gilded Age in that thriving city and there was a lot of building going on. Sadly, the journey cost them dearly: their two-year-old daughter died on shipboard during their passage.
WJ and Sarah went on to have five more sons.
They also found the English community in St. Louis. WJ joined a lodge, the Order of Sons of St. George. It was a fraternal organization for English immigrants, offering sick and death benefits and social activities such as dances and picnics. He also joined the cricket team Pastime of St. Louis. The box scores of a few of their matches, in Chicago and at Sportsman's Park in St. Louis, 1892 and 1893, have been preserved in the online Cricket Archive.
As soon as each son was old enough, they were apprenticed to their dad. By 1905, when WJ was 46, he had established the WJ Price & Sons Carpenters & Builders, with a shop on Aubert. Family lore has it that Sarah was the brains behind the business. Kingbury Place, Westmoreland Place, Portland Place, and the ABC Apartments were some of the areas where they worked. They thrived and each son was able to buy a home of his own.
But in 1927, at age 67, Sarah died and the business began to fall apart. Then the Great Depression hit them hard and destroyed what was left of the business. WJ's health began to fail. He died in June, 1934, at age 75. His death certificate records his cause of death as "chronic nephritis with acute cardiac dilatation (onset 1929) and chronic myocarditis."
I have to think what a full life WJ lived. He had that energy that immigrants are known for -- the energy to pick up and go to make a better life, the energy to carry on in spite of poverty and sorrow, the energy to build a successful family business, and the energy to become an active community member through sports. Love you, great-grandpa!
***
---
THE SUDDEN SILENCE: A Tale of Suspense and Found Treasure (2015) Thailand: lovers of ancient treasure tangle with international black markets. Delia Rivera pulls Martin Moon back into the game and their quest turns deadly. In paperback and Kindle editions.
TRIBE OF THE BREAKAWAY BEADS: Book of Exits and Fresh Starts (2011) Time after time, Mary asks herself: Do I go or do I stay? She finds her power in her ancestors: Smart women turn discontent into action. An illustrated memoir in paperback and Kindle editions.
PASSION AND PERIL ON THE SILK ROAD: A Thriller in Pakistan and China (2008) The twin forces of revenge and redemption drive Nellie MacKenzie and Taylor Jackson on a crazed adventure into the heart of Central Asia. They grapple with issues of ethics, trust, rage, and bitter heartbreak -- as well as the intrigue of the international antiquities trade. In paperback and Kindle editions.
Connect:

All pages in this website by Susan Barrett Price are licensed under a Creative Commons Attribution-Noncommercial-Share Alike 3.0 United States License. [The snowstorm image at the top of this page came from Wikipedia, under a Creative Commons license.]