Saturday, 4.28.07: Week In Review
Thoughtful, active week on Planet Susan—the weather is chilly again, a friz of green suggesting foliage.
Ireland is on the top of my mind. Had a long conversation with my cousin Sinead who was full of suggestions. I'm thinking and rethinking our itinerary with all my maps and books and B&B guides set out on my table. While Sinead frets about which hotel in Dublin has a nearby carpark and if we want to be in Westport for the music festival, Jim says we should just wing it and I gaze into the land of Dunnes, Martins, Kevilles, Flanagans, Barretts, and Gardiners... Reading up on the old Celtic belief systems.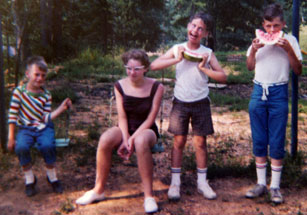 Other history. Someone found my Castlewood memories — the second in recent weeks. There isn't much history written on the old Missouri resort area so I should try to do some more. See photo here of me, my brother and my cousins circa 1960 — can I look any more embarrassed to be alive?
Then another Curran surfaced to claim her place on the family tree — this one living in Alabama.
Projects. Studied some "photo finishing" techniques in Photoshop (photo with our cousins on the right is restored and improved compared to original below).
On Tues contemplated what it means to be a great literary nonfiction writer. Intended to do some Serious Writing but let my To Do List take over.
Joy came by to persuade me to work with her on Project Empower. I explained all my misgivings and dilemmas but I really like her so I'll probably throw my hat in the ring. More on that later.
Ebay. Closed shop till the end of May. The generous maniac Gerry E. came by with an armful of stuff and tried to convince me to raise money to endow his Young Investigators Award (named after Jim) by selling crap on Ebay. Lordy. With Jim's not-too-subtle help (he packed up Gerry's box and handed it to him), I weasled out of it.
Haircut. Short, highlighted. Getting rid of the red.
Thumbs Up if you liked this entry.