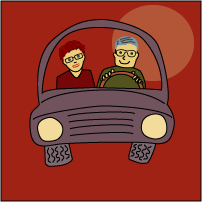 Saturday, 6.30.07: 2 Weeks In Review
Road trips, writing, and religion... and wretched electronics.
Our day trip to Corning was followed by a 2-day drive to St Louis and back.
I'm really trying to dig into some writing but suddenly I'm plagued by electronic annoyances: TV cable turning itself off. Dead network router. Network security won't work with new router. Mom not getting my email. Cracked DVD from Netflix. I should really take a long walk in the woods.
I really haven't intended to make a study of religion over the past year — I lack piety — but I continue to be drawn in. It makes for great conversations. I'm still reading Doubt: A History: The Great Doubters and Their Legacy of Innovation. It's an eye-opener in this age of dogma. During our walking-and-talking last week, Ellen reminded me that Thomas Merton had delved into Eastern spirituality. I read his "Seven-Story Mountain" in high school and loved it. Merton was a man of the world who paradoxically was also a Trappist monk. I bought his Mystics and Zen Masters
. But no time to read it yet due to electronic hassles above.
If there's a devil, his name is Digital.
<<< 2 weeks ago | Next week>>>
Thumbs Up if you liked this entry.