Day 4: Salina KS - La Junta CO (371 mi)
11 Oct 2008 -- Can we really have been on the road for 10 hours? Phew. Jim drove the whole way. I "entertained." From Salina, Kansas to this little town of La Junta Colorado (named for "the junction" of the main and southern routes of the Santa Fe Trail). We are so excited to be in Colorado even though we haven't seen a hint of the Rockies yet.
We decided to get off the interstate take the old highways across Kansas. The views weren't much different but it was easier to stop for pictures — and oh, the beautiful aromas and sounds of crickets when you step out of the car and you're the only people on a long lonesome road. I could have stayed there for hours. The colors & textures in the sunshine were amazing. We saw wild turkeys, lots of "bobwire," hay rolls, oil dereks and grain elevators. And a gigantic wind farm at Spearville.
Of course we had to stop in Dodge City. Most memorable: our first look at the gigantic feed yards filled with cattle -- the Excell Beef Yards. An awesome sight to behold (though disgusting if you think about it too long). The steady breeze carried the scent of manure, but it was sweet somehow. I'm easily impressed by vastness, both natural and manmade. I'm agog at the site of grain elevators or wind farms or big skies. We were both so absorbed in the scenery that we didn't bother with all the audio and books I brought along to keep us entertained through the "boring" parts. We're such gomers. We spent a huge amount of energy figuring out that the brilliantly colored grain we kept seeing was sorghum. Who knew.
After Dodge City, Kansas kind of changed from the Midwest to the West. More feed lots, and scrubby plains. Horses. Sagebrush, maybe? We stopped to see some of the ruts of the old Santa Fe Trail, but just then a thunderstorm struck and we didn't think it wise to take a walk with umbrellas.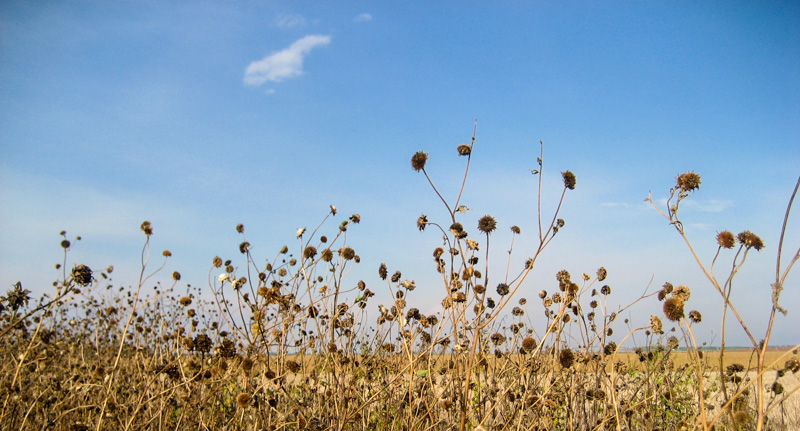 We were going to try to speed all the way to Cañon City in the Rockies. I had the typical prejudice that there was "nothing to see" in Kansas and we should "get through" on our way to the mountains. I'm so glad we decided to slow down.
Sunshine helps. It is pouring rain now in La Junta… scenery not so beautiful, but it's nice to be tucked away in our cozy room at the Holiday Inn Express.