mad in pursuit notebook
DISPATCHED FROM THE CROSSROADS
Comics without newspapers?
A conversation at McGurks with the two Bobs got me thinking about cartoons, comic books, and drawing. Then yesterday an article in the12/28 New York Times caught my eye: "The Comics Are Feeling the Pain of Print." The issue: what are syndicated cartoonists going to do now that newspapers are shrinking or disappearing? Answer: diversify channels of distribution! Ideas are percolating.
Motion comics. I love this idea. Take a drawing and animate it a little bit (pans, zooms, a bit of motion), then add voiceover/sound. This is what I basically did with "Great Dames Take Naps" only I thought I was being lazy and incompetent. Little did I know that I was stumbling into a new art form. I downloaded an episode of "Watchmen" from iTunes (thanks, Bob3, for reminding me of this graphic novel) -- it was mesmerizing -- clearly a comic strip (beautifully drawn and colored) moving and not just a cheesy sweatshop-produced minimalist-style cartoon.
See also: "The Rise of Motion Comics Online" by Chris Albrecht. "Web Draws on Comics" by Sarah McBride (WSJ). "N" by Stephen King... his new book presented as motion comics aka "graphic video."
Delivering cartoons to mobile phones. Uclick has an iPhone app. Their GoComics requires a $ub$scription. I joined comics.com. I'm not much of a comics reader these days, but I should check out what others are doing.
Online cartoonist sites. Comic Genesis, Web Comics Nation -- They mostly make me want to go ugh, even though there is lots of talent at the top of the heap. Joined Web Comics Nation, was overwhelmed at all the sections. Comic book page format is not compatible with computer screens -- I hate having to scroll to see the whole page.
OKAY I'm really procrastinating here -- indulging in my favorite activity THINKING ABOUT instead of DOING. I want to be working on a "Zuzu & Zim." I did this mind-map in November, but I think it captures the essence of my thought process: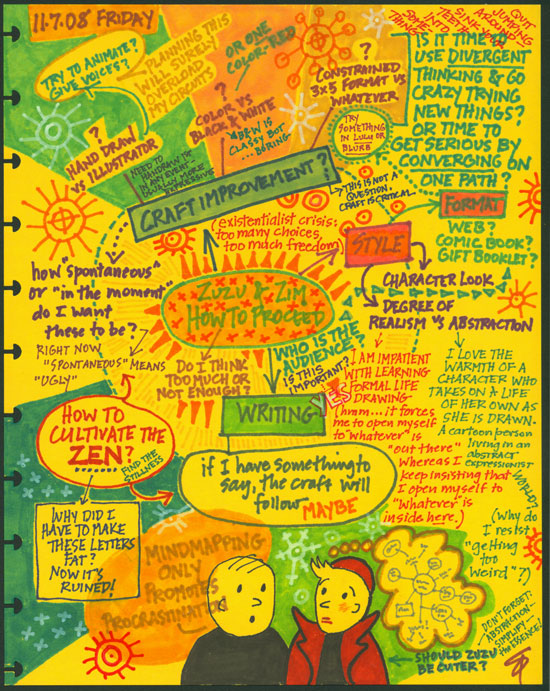 1.1.2009