mad in pursuit notebook
DISPATCHED FROM THE CROSSROADS
Contemplating a Beadabase
Last night I installed the Microsoft Office Access 2007 Upgrade and curled up in bed with the "Missing Manual" book. It had all seemed like such a good idea last week when I ordered it. Now I'm, like, what was I thinking??
There was a day back in the early nineties where I could throw together a little Access database in my sleep. I hate that I have forgotten everything and must re-read the manual. Love learning. Hate re-learning.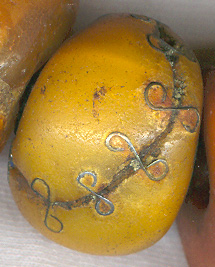 I actually have a database already done for a substantial portion of my bead collection. My idea was to build on that... for what reason?
It's been a while since I paid much attention to my bead collection. I'm forgetting what gorgeous and intriguing little gems I have. I'd love to make some kind of catalog. Piece together their stories. (Reviewing old beads way more interesting than reviewing old database procedures.)
I started writing some little things about my beads here and they raised some interest among bead people. There may actually be a market for... something... inspirational, informative little booklets, maybe. I don't know how fast bead stores are biting the dust in the current recession, but you know they'll be back. Beads will always be with us.
I am circling around this. Many beads (or stuff strung on a string) had magical purposes, like warding off the Evil Eye. Which was kind of what I was poking at with Zuzu & Zim drawings last week.
Something will materialize...
1.13.2009