mad in pursuit notebook
DISPATCHED FROM THE CROSSROADS
Week In Review
6/19/10 Busy socially. Busy-busy mentally.
Productive work: Passions
Grand Exits. Draft for Comment is waiting for comments (tick, tick, tick). Maybe I better do a PDF version readers can print out...?
Productive Work: Stewardship
Four auctions in progress. Bids are looking good.
Exploratory Work
Reading. Reading "Infinite Jest" by David Foster Wallace, but my reading time got hijacked by techno-tyranny.
Infrastructure work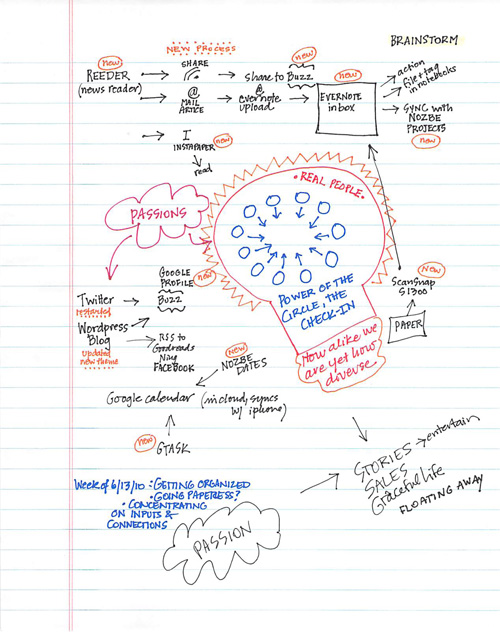 I started mapping out a workflow, but it became more of a brainstorm/mindmap as I explored some new apps and technologies for "getting things done." Reeder news reader; Google Buzz; Nozbe project/task manager; Tasks on Google Calendar; Google Profile; Instapaper; Evernote; ScanSnap S1300; then the Wordpress 3.0 update, with new theme templates. (See also, blog note 1, and blog note 2). Meantime (continued below)...
Energizing Not-Work
Meantime, I met up with some real people. Lunch with my adventurous "scuba lady" friends, a Pat Drum Aerobics reunion, and Maria's Zumba party -- catching up with nearly 40 women all told. With the PDA group, we actually did a formal check-in, in a circle. I'd forgotten how energizing it is to do that, each person speaking to "the center," everyone listening. The other groups did that too, though more casually and not so thoroughly.
Got to get to a yoga class today to pay for all the beer I drank this week... and will also spend some time with my honey.
<<<Last review | Next review>>>