mad in pursuit notebook
DISPATCHED FROM THE CROSSROADS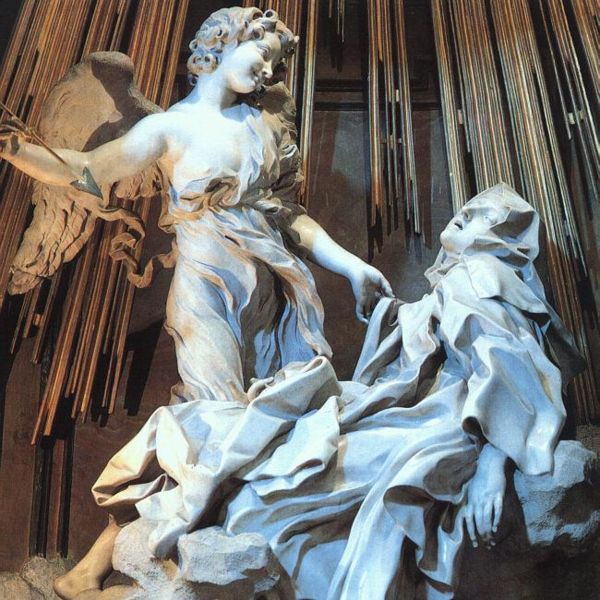 I've been reading Rumi poetry these days and listening to a book about him ("Song of the Sun" by Andrew Harvey). As the book talked about the would-be mystics needing a rigorous spiritual practice, I wondered what ones I might adopt. I don't know if I have what it takes to really pursue mysticism — the direct experience of God — but I'm no good with middlemen.
Well, one thing led to another and here I am learning about St. Teresa of Avila and her methods of communion with her soul and ultimate union with God. I've always been a fan of TA, a Spanish nun, founder of the Discalced Carmelite order, first woman doctor of the Church, and mystic extraordinaire. In Rome, I made a special effort to see to the Bernini statue of her ecstasy (photo above). The photo hardly does her expression justice. I'll have what she's having.
In college, Sister Terese Avila was the chair of the Spanish Department and my mentor. She taught me Portuguese, radicalized my political perspective, and introduced me to some edgy Baroque/Dionysian philosophy. Unfortunately, she died before I graduated. Her power connects me to St. Teresa.
I am learning about TA's "interior castle" via Carolyn Myss' "Entering the Castle: An Inner Path to God and Your Soul." This is so not me. But — isn't that the point? Every once in a while we have to go looking for the "not me," right?
[Photo by Napoleon Vier]