mad in pursuit notebook
DISPATCHED FROM THE CROSSROADS
Week in Review
Bead inventory. This week had me still chained to the camera in my studio, taking pictures and cataloguing strands of beads. About 300 and counting, 5 more boxes to go. Insane.
Writing. I got a little mentally wrapped in knots over the next big writing project. I'm not too good at sustaining misery these days. I jump the tracks and head off in a new direction. As I wrote to Pat:
Actually, my insight after our conversation is to do what I've been doing well so far -- go SHORT. Write one sentence. One paragraph. One page. I remembered all my little video and radio scripts -- they got me so far! Look at all [the poet] Rumi conveys in a few lines. And oh I would love to get back to a little video or radio/voice work. I'm still stuck on the word ENCHANTMENT, and maybe MYSTERY... so I'm trying to prime myself for a BREAKTHROUGH.
[...] Oh I can't wait to hit the road. I came across this sentence I wrote in my notebook, written by Jack Kerouac inOn The Road:  "A train howled off in the direction of our desires." That's where we're headed.
So I've pulled out my resources on short-short fiction and essays. Put some short stories on my Kindle and loaded up some audio versions on my iPhone.
In addition to photographing necklaces and priming my writing pump, I also copied my latest scribble notebook, the one I fill with whatever is on my mind. I donn't bother with the scanner for this kind of task.
I just set up my camera on a tripod on the table, point it downward, tether it to my computer so I can see it's all in focus, then Snap - Turn Page - Snap - Turn Page, etc. till I'm done. Two pages at a time. Once I'm set up, it goes very quickly. I have 4 of these fat notebooks now, since about the time I retired. Upwards of 300 pages or 150 large .jpg photos each.
My Adobe Bridge software will render the photos into a PDF book, from the Output view.
Adobe Acrobat X Pro will re-render the half-gigabite files down to about a 1/10 of their original size.
Then I can import these notebooks into Good Reader on my iPad, so that I can have 8 years of doodling inspirations and insights at my fingertips as we head off into the unknown.
Off course they will also be backed up into the Cloud via Carbonite.
Maybe it seems a little compulsive, but if I lost these notebooks, it would be akin to having a stroke -- a piece of me, gone.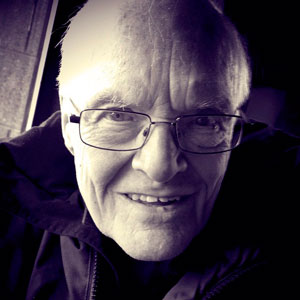 Also working on my iPhone photography, cropping my photos into squares, adding some filters and publishing them via Instagram. I'm beginning to get a few "Likes" as my photos hit the "stream." Fun. More geek process: I have scattered photo tips and notes written on little cards or post-its all over my desk, so now I'm experimenting with Evernote as a way to capture them, so I will have all my recent learning in one little "notebook" accessible via iPhone or iPad.
Roadtrip. Yes, we are packing for our big experiment in Florida snowbirding. It will only take a moment to throw a pile of t-shirts and light pants into the suitcase. I'm more concerned with what "toys" to bring.
We take off bright and early tomorrow. Smiling.
Jan 28, 2012