mad in pursuit notebook
DISPATCHED FROM THE CROSSROADS
Week in Review
March came in like a lamb this year, but is exiting like a Siberian tiger, with snow in the forecast.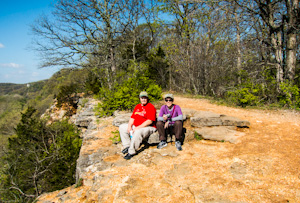 Last weekend was fun in St. Louis, celebrating my mom's 87th birthday. Highlights:
Looking at old family photos on her new iPad
Friday night dinner at LoRusso's, just a walk across the street, with Mom and Jim
Saturday night party at Kathleen's with all my mom's kids and grandkids, plus her Barrett-side nieces Carmen and Barbara (with Tim) and her Price-side in-laws Mary Ellen and Patrick (my dad's two remaining siblings). It was a perfect crowd for lively conversation. It was also my nephew Brendan's birthday.
Sunday morning drive out to Castlewood with Jim and Tom. Tom wanted to see the "Zombie Trail," heralded in the psychic press. That turned out to be a beautiful walking trail -- no hint of spooks. So we went over to our childhood haunts at Castlewood, where the real spirits of our childhood linger. Tom and I were even excited (crazy) enough to climb down over the lip of the cliff into the shallow cave that enchanted us as kids. Now it's littered with beer cans.
Tom McD. brought me 6 day lily plants -- cultivated from the originals he rescued from Kitty Mom's garden when her house sold. Now they are planted behind our house.
Sunday afternoon and evening was a fun hangout at my mom's. Lotta laughs, esp. teaching my 6-year-old grand-niece to play DinoCap (dinosaur-killing) on the iPad.
We got home on Tuesday.
The rest of the week consisted of...
Running around town on errands (computer recycling, tax returns, groceries, Home Depot)
Fix-it tasks (loose toilet seat and loose faucet fixture in the powder room; gluing broken African sculpture)
Back to exercise (gym, walks)
Back to writing
Downloaded Lightroom 4.0 for photo processing, so a little learning there.

Mar 31, 2012