mad in pursuit notebook
DISPATCHED FROM THE CROSSROADS
Where Have I Been? What Have I Done? What Next?
Jul. 29-Aug 4, 2012. The week's highlight was a visit from Jim's grandson Mark, who flew up from Florida (see photo). With him we toured the Clarence Flea Market, Birds Unlimited, Linear Park, and a couple video game stores. In between we watched Olympics and classic movies (Fahrenheit 451, Apocalypse Now, and Andromeda Strain). Mark helped us photograph an antique knife collection and we had a lot of good conversation about being collectors. Other social activities included cocktail hours with Maria and (by phone) Pat.
Engaging and Sharing (Creative and Curatorial Products)
Creative: storytelling. Didn't do a bit of work on my writing project.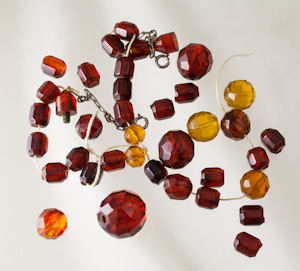 Cataloging. Finished cataloguing (1) a box of vintage U.S. necklaces [photo: broken strand of vintage amber beads] and (2) the Indonesian keris (ceremonial knife) collection. Progress!
Exploration and Capacity-Building
Going through the box of old beads (a few on broken strands, a few with religious overtones) got me in a crafty mood. I experimented making a couple of St. Therese bracelets, which I decided to call my "patience" bracelets--patience being one element of the state of mindful calm I'm always aiming for.
Getting into this led me to the nearby bead store--always dangerous to discover a source for new materials and tools. I also watched some YouTube videos on bead stringing and wire wrapping, which were helpful. I think my old hands are losing some dexterity, so it's probably a good thing to make them work on small things (other than keyboards).
Infrastructure and workflow
I set up the kitchen computer so that my camera (on a tripod) will tether to it. That way we were able to set up the kitchen table for picture-taking of collectibles and capture them directly onto the hard drive. This is a little roomier and more sociable than locking myself away in my studio for every project. [Photo: a keris handle from Bali, photographed on the kitchen table, with a mirror.]
Deep Energizing
Sleeping, eating, exercising -- my regimen is all blown to hell. Next week I'll be good.
Aug 4, 2012