Remodeling: Jim's Study
10 Nov 2012 -- Jim's study has always been ground zero for his collecting passion. Where some guys have their man-caves, with wide-screen TVs, Barcaloungers, and beer chillers, Jim has his reference book shelves, his pile of catalogs and his file folders of receipts. Over the years, in any number of domiciles, Jim's study has been where his treasures were first prized.
Around the time I quit my day job, we decided the house was officially Full and that a few things had to go, if only so that the remainder could "live." Out of Jim's 10 x 12 treasury, we sold about 300 books by Charles Darwin and friends, 100 19th-century public health books, 100 reference books on antique firearms, and about 300 antique firearms themselves. Mysteriously, the room was still full. When the shelves in the cabinet housing his photo collection began to break, his room became even more crowded as we moved stacks of matted photos from the living room upstairs.
As of last week, the study still housed a collection of books on Lincoln, the Civil War, and American history, with a smattering of more ancient books; a boxed-up collection of antique stereo cameras and viewers; a small trunk full of Japanese scroll paintings; stacks of prints and paintings from God-knows-where; a box of leather holsters and pouches; a collection of powder flasks and powder horns; collection of cased dagguerreotypes, ambrotypes, and tintypes; collection of antiques knives and swords; collection of hand-fans; collection of Japanese netsuke and related objects; a big box of photographic material related to Cornell University and Ithaca NY; a few small boxes of art nouveau silver mirrors, brushes, etc; a box of otherwise uncategorized miscellany. And of course the stacks of Japanese and American photos from downstairs. Plus stuff on the walls and window sill.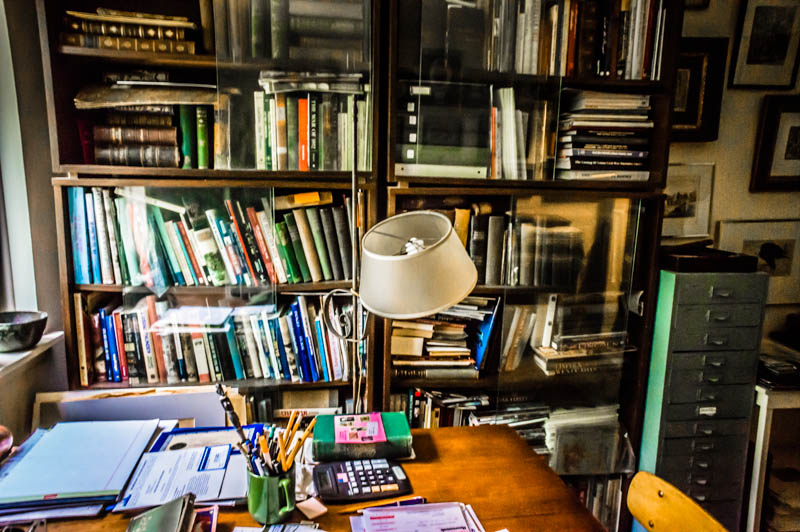 It is a tribute to my own genius in organizing (and Jim's delight in same) that the room doesn't look like it belongs to a pathological hoarder. (Just a happy hoarder.)
It is in this setting that I decided (to Jim's dismay) that the ratty old carpeting must go, the walls must be painted, and the closet redesigned.
But first: we cleaned up the garage, so that less destruction-prone items could be moved there. Then the utility room and ground-floor closets were cleaned up and reorganized to find the remaining few cubic inches of storage space this condo might yield.
Then: boxes of stereo cameras/views, Cornell/Ithaca collectibles, miscellany and art nouveau treasures were engineered into the freed up space in the ground-floor closet (nevermind the stack of framed vintage photos, etc. now piled on a table in the ground-floor study).
Now, in Jim's study: Everything (minus the above) is being moved out into our bedroom and into my studio (feng shui shot to hell). We took the sliding doors off the closet, removed the single shelf and pried out the one-by-fours that held the shelf in place. (Bonus: I re-purposed one of them into a countertop for my studio.) I equipped J. with sandpaper and spackle to repair the closet walls.
Next: painters come on Tuesday; floor guy comes on Friday. We decided on a Rubber Maid wire shelving system, with 18"-wide shelves for the closet, to house all of our stacks of antique photos and prints, so our contractor will help us get this installed.
Rinse and repeat: After the chaos next week, we go on a two-week roadtrip. When we return, same treatment for the bedroom!