Birth of A Wikipedia Editor
3.02.2013. It all started less than two weeks ago when I decided that "once and for all" I'd establish an efficient way of capturing research on all our collectibles. We have a ton (literally) of books, auction catalogues, exhibit catalogues and articles Jim clipped from newspapers and magazines (carefully tucked into the pages of the books). If I'm lucky, the best books are "tagged" with labeled bookmarks sticking out of their pages. As I started in trying to process a shelf of information on ancient Panamanian pottery, I despaired. Where in hell would I keep all the dry but important facts? If I wrote my own little web page on each subject, who would read them but me? Who would give a damn?
Yes, who gives a damn? When Jim and I are gone, the ephemera will be quickly trashed. The thousands of "outdated" reference books will be dumped into the netherworld of the used book market. Who will bother to pick their knowledge and share it, when just about everything is mostly sort-of already online?
It was then that the thought took hold. Wikipedia. As I comb through the old material, I could make sure that Wikipedia contains the information too. A knowledge transfer project! Wikipedia would be MY encyclopedia. (BTW, did you know you can tag a bunch of pages in WP and turn them into a printed book or a downloadable PDF? Intriguing thought.)
Anybody can edit Wikipedia. Anybody. But how exactly does that work? I bought some books.*
Last Sunday, I finally got the nerve to cross the threshold -- to find a page that mattered to us scholarly monks here in Cloud Cottage and add my two cents. I landed at "Machu Picchu," a little upstream from the specific entriess on Peruvian artifacts I was aiming for. I started studying it.
Behind the tab that lists the "article" is one called "talk" that I'd never paid attention to. Click. Ah... this page is for discussion, whether it's a disgruntled user who wants to complain about something they didn't find or a debate among several editors about something that should or shouldn't be included. There are also listings here of self-organized groups who are taking an interest in the subject. At Machu Picchu I saw an important-looking announcement saying that the Machu Picchu page used to be good but now it sucks because it lacks verifiable citations. Ooooooo -- we have half a shelf on Peru -- there must be something "verifiable" I could contribute!
And so I clicked on the "Edit This Page" tab. I found a couple things to add, entered a couple good references and wound up rearranging the article a tad. When I finally hit the "Save Page" button, I got a genuine nerd-rush. It strengthened my belief that all of human enterprise can't be reduce to profit-making business models. Sometimes we do things simply to be part of something bigger than ourselves.
I was hooked. I moved on, semi-randomly, to edit articles on the 16th-century Japanese painter Yūshō, the "pre-photographic" 18th c. optical viewer called a Zograscope, and the early 19th-century optical toy Polyorama Panoptique. None of the entries had appropriate photos, so I added photos from our collection via Wikimedia Commons (more learning). Of course, everyone knows that you use a Zograscope to gaze at Vues d'Optique, but WP didn't have any entry at all on those. Thus I wrote my first Wikipedia article from scratch: Vue d'Optique -- with photos!
So far this exercise has been instructive for me. When I write my little web pages on Mad In Pursuit, I breezily string together whatever is on my mind with whatever facts are casually at hand. But for Wikipedia, I'm forced to really read the reference to tease out and summarize facts appropriate for an encyclopedia. The process forces me to ask questions and evaluate information. It provides an incentive to be more systematic about reviewing the books in our library. And if it turns out I get something wrong, someone will likely be looking over my shoulder to challenge or correct it. Pretty cool.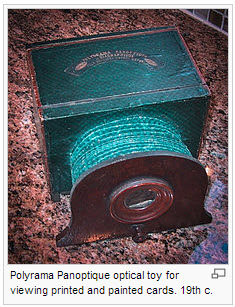 Karma is involved too, don't you think? Give good information and good information will come my way. Be kind to the dragon and he will fork over a few nuggets of gold. While I was poking around for other photos of the Polyorama Panoptique, I found a 2007 Christie's auction catalogue that featured a number of optical devices we own but whose value we've lost track of -- ah! good clippings for my private digital notebook.
Well, that about summarizes my week as a newbie editor on Wikipedia. I'm hoping I can learn the tricks of the trade fluently enough to make editing articles there part of my collections-management routine. It feels good to push information and photographs from our quiet backroad onto the superhighway, where a diligent fifth-grader might one day be inspired.