Preparing for The Road
5.28.2013. I hate to admit to any superstitions, but I often have a nagging feeling that if I'm super-duper organized, disaster will strike. (Remember when Deadwood's Al Swearingen said: "Announcing your plans is a good way to hear God laugh"?) On the other hand, my brain is halfway into its seventh decade, with a tendency to wander off on its own just when I'm looking for the papers I know for sure I printed out. So I'm walking a fine line here.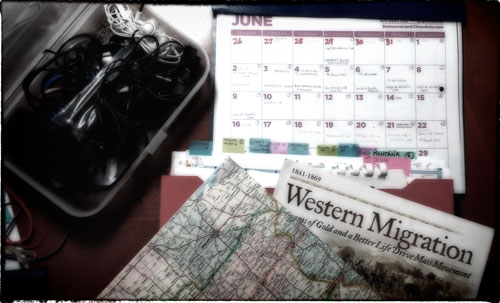 We have room reservations (cancellable) for every night between here and Glacier National Park. They are printed out, stapled to local maps, tabbed, and put in chronological order in our front seat organizer.
Yes, we have a Garmin GPS and assorted trip aids on my mobile -- plus a Verizon hotspot we can plug in when AT&T inevitably craps out west of the Mississippi. However, we really love our physical maps.
In fact, you might say our road trips are all about the maps -- marking where we've been and looking ahead for interesting routes to take. GPS is fine: it tells you where you are and can provide the shortest or fastest route to a specific destination, but big, detailed, foldout paper maps or oversized atlases hold all the possibilities... where you've been, where you might go, what little backroads look interesting, what unknown landmarks you might detour to see that hadn't popped up in the planning stage. Sometimes, along interesting routes, we're so into the sights and our maps that radio programs and playlists feel like a distraction. We are HERE.
Naturally, then, our map box is a takealong must. A few trips back I discovered the convenience of edge-labeling the guidebooks with a fat black marker... and of course, rubber-banding together info by state. The map box also contains field guides for birdwatching and is a handy place to stick the binoculars.
So we are organized -- just about twenty hours away from locking down the hatches of our road capsule and blasting off. We're leaving with confidence (confidence is the only real benefit of planning) and low anxiety. But after 3 mights on the west side of Glacier NP, anything goes.