Spearfish SD to Billings Montana
6.5.2013. Today was lonesome road and sagebrush. Spearfish SD feels like the far corner of the north, but today's aim was to push our roadtrip more north and even more west -- into Montana. Yes, we could have taken I-90 to Billings, but what fun are interstates? We struck out on US Route 212, which angled northwest in just the right direction. The morning was cold and gray. No one was on 212. For a good couple hours, we had a well-paved two-lane highway, with a speed limit of 70 mph, all to ourselves -- except for the occasional truck heading in the opposite direction. Our AT&T plan finally crapped out. I loved it. We were totally into speculating about why sometimes the cattle clustered together and sometimes they drifted apart and whether or not the shrubs were sagebrush. We drove through a place with no answers. A deer crossing the road stopped to stare at us. And we began to see our first pronghorns.
After we passed a Halliburton energy plant near Broadus, the action picked up, with a bit more vehicle traffic. And blue sky appeared. I took a few photos through the windshield (above). The satellite imagery (below) makes the land look more formidable than it felt. It really felt quite wonderful.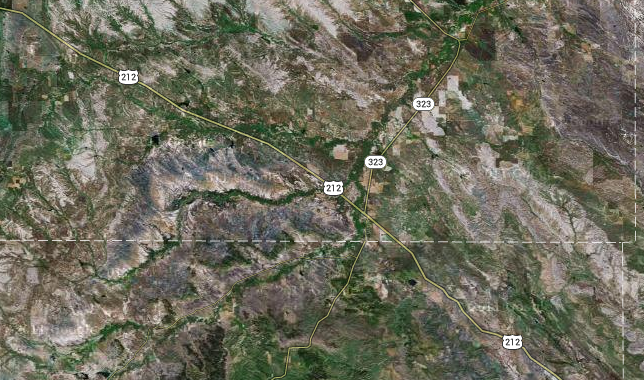 A roadwork delay made us slow down at the west end of the Custer National Forest. It gave us time to open the windows and drink in the air... and to ponder the fate of what appeared to be dying pine forests (see photo below). Later we found out it was the mountain pine beetles.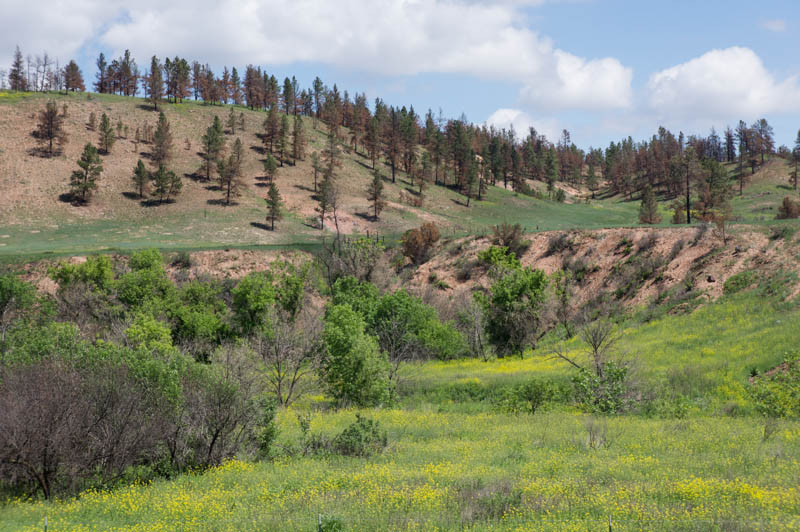 Next: the Little Bighorn Battlefield National Monument, where the Sioux won their battle against Custer but ultimately lost the war to the Americans. Neither of us really got into the mechanics of the battle, but it is definitely a place for reflection. It's heavy with ghosts.
I had a chance to check out the shrubs by picking a sprig and rubbing it between my fingers. Sniff. Oh, yes definitely sage.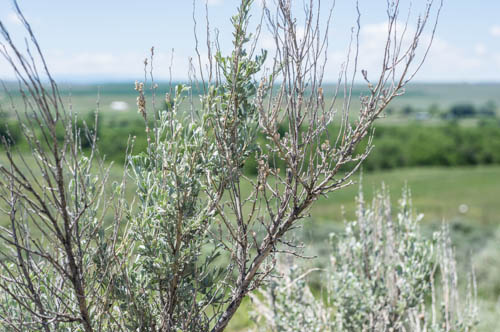 We were going to made one last tourist stop -- at the Western Heritage Center in Billings. We navigated to within a block of it. Then a mile-long coal train came by... and stopped. There was a way around it a couple blocks away, but the traffic all around started piling up with people deciding on the same detour. We took this as a message that the sight-seeing portion of our day was over and found our way to the hotel.
Billings: I have to say it's kind of ugly. Very industrial, with big energy refineries and lots of traffic. Guess economy-wise, it's doing okay.