Bismarck ND to Moorhead MN
6.16.2013. I think the secret to driving through North Dakota is to ratchet down to the state roads, avoiding even the good old federal highways. It is the state roads, we discovered today, that really put you into the landscape. I'm not sure if Jim would agree with me (he who easily goes 80, while I cruise at 55), but I find every mile of these prairies engagingly different. My mind goes into a kind of meditation state, where I don't really "think" but observe... wavy grass, tree, stand of trees, cattle, tumbledown barn, pond, flooded ditch, tree, wavy grass, black steer, brown steer, wind turbine, train track, grain elevator, river, barbed wire fence, long line of trees, wavy grass... no temptation to get sleepy, since I'm rapt with attention. But like meditation, as soon as you start wondering "how long is it till...", the magic disappears and it's all just a blur of green. You must BE.
Here we are at the end of state road 36 and US 281. We needed to go south toward I-94 in order to find anything resembling a place with bathrooms. This is a through-the-windshield shot: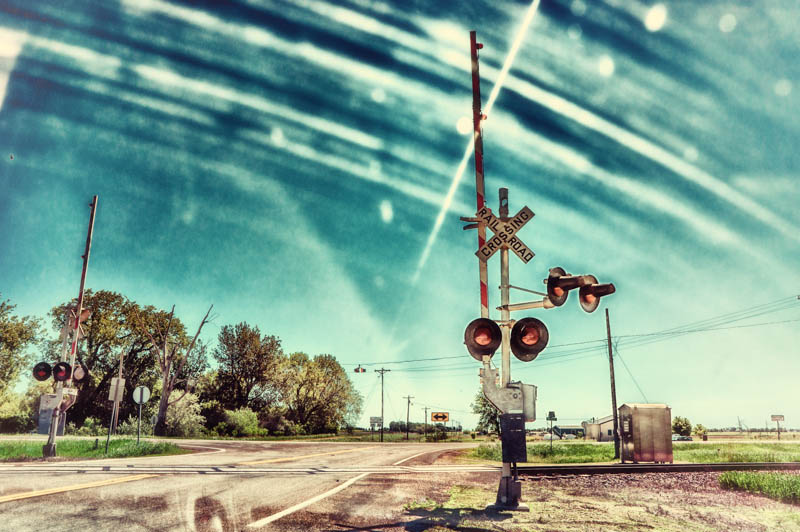 We stopped for lunch out of our cooler on state road 46. With the window open, we could sit back and listen to the wind in the tall grass -- the only sound, strong yet peaceful. I could have sat there all day.
Avoiding I-94 meant that we wound up meandering through the residential areas of Fargo (very lovely!) before crossing the Red River into Minnesota and the town of Moorhead, where we are lodged for tonight.