Doll #4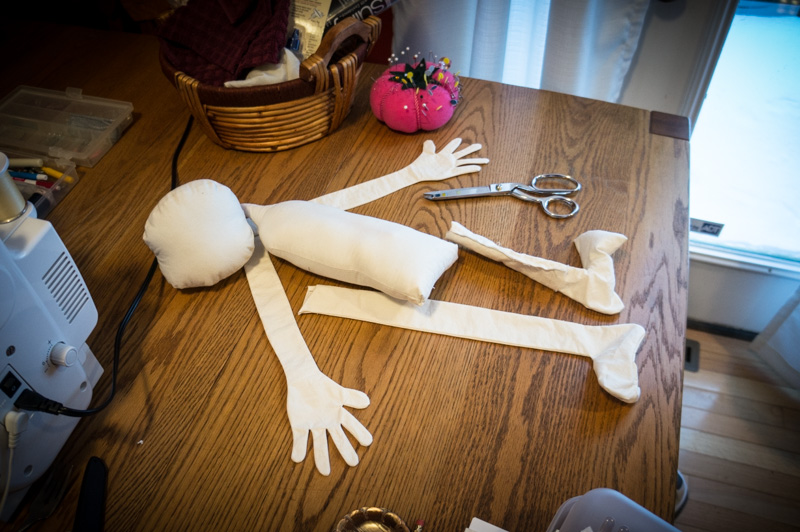 1.11.2014. Post Christmas roadtrip: I am anxious to get back to my sewing machine and get another project started. My mind is jammed with ideas. Jammed as in "traffic jam." But finally a project emerges from the gridlock: a doll, bigger (to free me up from working in miniature), and based on a "country primitive" design (to give me a break from the intimidating world of the art doll).
I use the Mandy pattern from Folk Art Primitive Doll Patterns: 20 Primitive Black Doll and Art Doll Patterns by Jennifer Terry. I like the big hands and feet. (See the cover detail image here for how the Mandy doll was meant to look.)
The pattern and directions are less standardized than in my other books, so I do a lot of head-scratching from the outset.
The pattern does teach me how to manipulate the muslin to get a realistic foot and ankle (see photo at top). I also learn how to reinforce the neck area using a hard plastic drinking straw in the trunk section. But the head turns out this wierd pumpkin shape and I wind up removing a lot of the stuffing and binding up the extra cloth. The seams are still all puckered -- not sure where I went wrong.
Best tool: 12-inch long hemostats -- yes, those scissors-looking, forceps-like tools that surgeons use to hold your abdomen open. They are amazing for getting stuffing into hard-to-reach fingers and toes.
My doll, of course, is not going to look like Mandy. This is MY experiment and I want to try some needle-sculpting to give this doll a nose, as well as a hint of eyes and lips. The results (photo below) aren't bad for a first try, though I might have avoided the crumpled effect under the nose.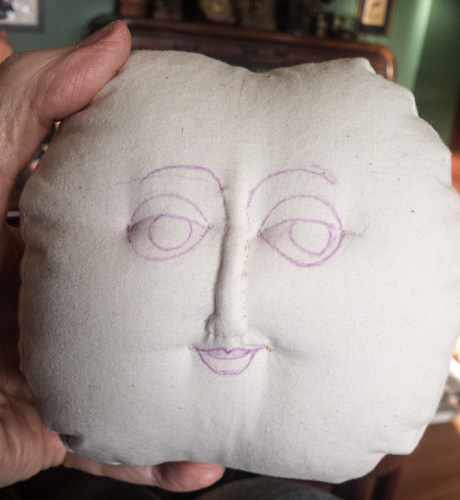 Next, I paint her face with acrylics and sew her all together. Swaddled in an old sweater of mine, with head wrapped in a vintage dresser scarf, Doll #4 is beginning to take on some life.
Hair. The pattern calls for needle-felted hair. I'm game. I send for some wool roving (lengths of carded wool, smoothed into bundles, before it is spun into yarn) and some felting needles (damn sharp little things with serious barbs). Oh, fun! No skill required. Jab, jab, jab... the wool gets driven through her skull and melds with the Poly-fil. Actually, maybe I should have stuffed her head with wool, since the roving pulls out pretty easy. Oh well, she winds up with a great head of hair. Definitely needs styling, but in the meantime I wrap her head in the butt section of some old pantyhose while I continue work. (I've been wondering why I still have pantyhose in my sock bin, so now I know.) She is still coy about revealing her name, but the hair tells me she is old.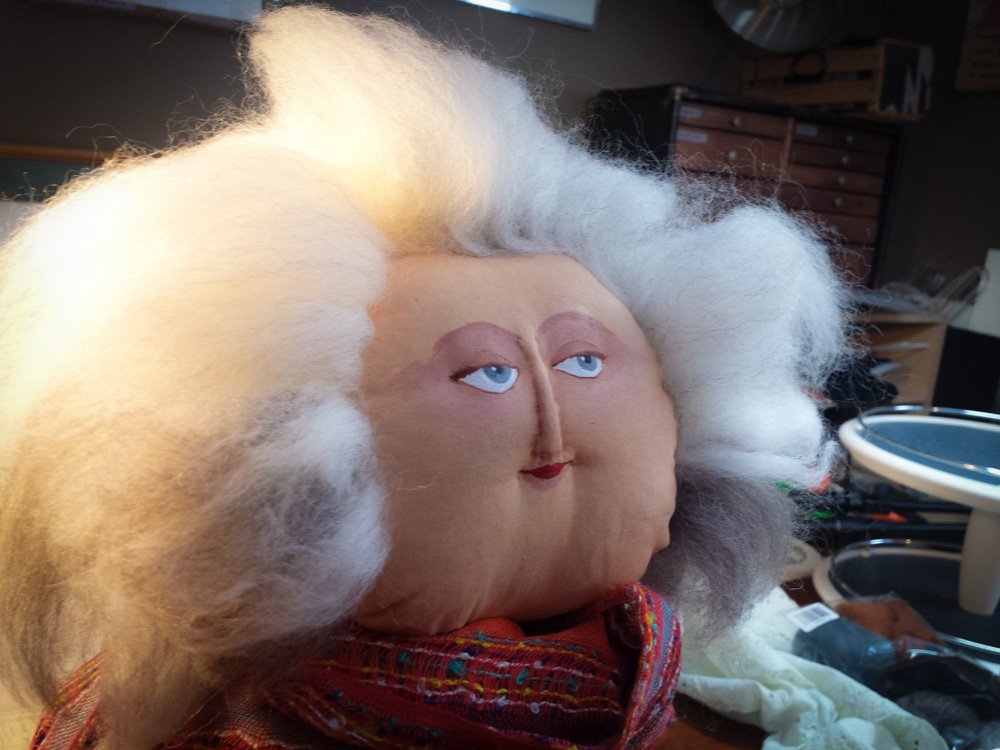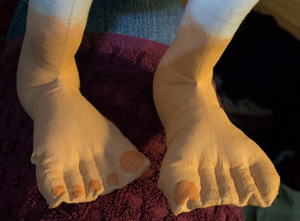 Mani-pedi. Time to paint her hands, feet and nails. I thought her feet were going to be really cute. But, consistent with her white and gray hair, her mishapen feet reveal her to be old.
Clothes. Ah, time for creativity. Anything goes! Will she wear silk or calico? Will she be colorful or drab? Will she be urbane or countrified? I am trying to approach today's dollmaking without preconceptions, without too conveniently adopting the conventions of the art doll gurus -- goddesses, fairies, and other whimsical creatures overworked with glittering organza (cool though they are and envious though I am of their makers).
I wrap her in the black, v-neck, short-sleeve, cable-knit sweater from Target because it is in a bag labelled "knits to do something with." With her white hair, Jim thinks it makes her look like a judge. Or a professor in her academic gown. Hmmmm....
I audition a few other possibilities. Old beatnik (Jim's discarded black turtleneck)? Old ski bum (Jim's discarded ski sweater)? Well, she really prefers my old Target sweater. Okay, I cut a sleeve off Jim's black sweater to give her a turtleneck (to hide her unfortunate neck seam). Then I modify the Target sweater so the sleeves fit her arms better. I am figuring out how to embellish all that black.
But meanwhile I cut up a pair of my worn red socks and learn how to do a herringbone stitch.
Ohhhhhhh, she likes the hand-stitching. So, she finally told me her name.