Summoning the Muse (By Getting Organized)
2.3.2014. "The muse is drawn by the sound of typing." I recently heard the journalist Andy Ihnatko say that. It's a good warning that you don't wait for inspiration to strike before you get to work. It is doing the work that primes the pump of inspiration. Check.
I need another project to supplement the slow-moving free-motion quilting course. I have lots of ideas but none are reaching the level of driving inspiration. So I get out my raw materials and start... playing? Well, a little playing and a lot of organizing. I don't do "play" well, but organizing is often a good whistle for calling the muse on deck.
Scraps. The thing about quilting is that the more fabric you use the more leftovers you generate. I would love to make a vibrant anything-goes quilt out of scraps but they are all jumbled in a big mess. So I checked a couple internet resources (e.g., GourmetQuilter video), got my OCD on, and started cutting odd-shaped scraps into defined strips and putting them into folders. 1-1/2, 2, 2-1/2, 3, 4, and 5 inches. Seriously. (See photo at top.)
"String" piecing. Actually, what drove me to the obsessive-compulsive challenge above was an impulse to sew bunches of little strips together in 4" blocks (see photo below). I like the result, although cutting and ironing each little strip before sewing threatened to drive me crazy, even when my strips were long enough to do 8"x8" blocks. String-quilt blocks are usually pieced on paper, but I used a polymesh backing in the spirit of experimentation.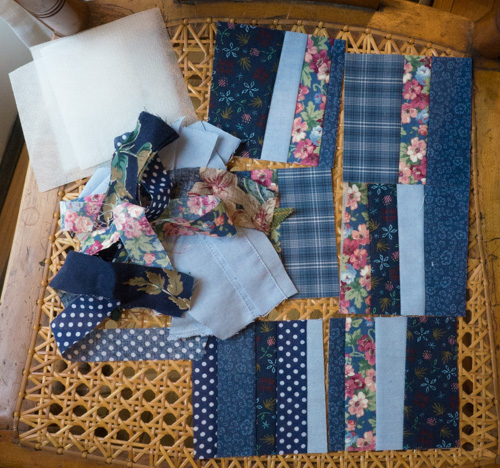 Batting batty. I caught a Fons & Porter video "How To Join Batting Pieces." I have lots of little batting strips left over from Quilt #2, so I went to work. It was actually kind of relaxing, but then... enough is enough.
Oh yeah, dollmaking. I bought four books on dollmaking by Susanna Oroyan, who goes into depth about the whys and wherefores of construction rather than simply providing patterns to follow. But I haven't really dug into them. I'm intimidated and overwhelmed by all the possibilities. Here's where I need to sit with some pens and a notebook and figure out an approach or two.
Faces. I like the idea of incorporating "doll" figures or faces into my Anything Goes quilt. (Okay, I'm going to call it that -- Anything Goes Quilt.) I like doing faces with colored pencils, but are they washable? After some research, I got the impression that daubing the finished face with textile medium (I have GAC-900) or Jacquard Colorless Extender (ordered) and heat-setting it would do the trick. So I drew on a scrap of muslin with Prismacolor pencils and a brown Micron Pigma pen. You can see below that the Micron pen ran slightly with the GAC-900 but the effect isn't too bad. The GAC-900 did darken the fabric and made it more transparent. But, after letting it sit for 24 hours, then ironing it, I put it in a bowl of warm water and detergent and yay -- no loss of color, no smearing or running -- it's washable now!
Next I think I'll cut out the face and use fusible webbing to stick it to a fabric square, then give her some applique hair. I know, she looks like one of those "Can You Draw?" faces in the backs of comic books.
Kawandi quilts. Meanwhile, I discovered Margaret Fabrizio videos on YouTube. Margaret makes awesome quilts based on the mysterious methods of African Siddi communities in India. The quilts are exuberant and I am enthralled with Margaret. She is about 84, a musician who was on the faculty at Stanford (harpsichord), who now makes quilts and records a video of her life nearly every day (more than 800 and counting). (Her website) When she couldn't figure out how Kawandi were made, she took off alone for remotest India to visit the Siddi women and learn from them -- in her 80s. I can't figure out whether I want to try to make a Kawandi or if I really just want to be like Margaret. I've included one of her short videos here, as she wonders how to get support for a show:
Maybe Margaret is the muse I've been trying to summon. I did wonder yesterday how I was going to make age 65-85 as kick-ass as age 45-65.