March 2014 Roadtrip Report: Crafty Encounters, Part 1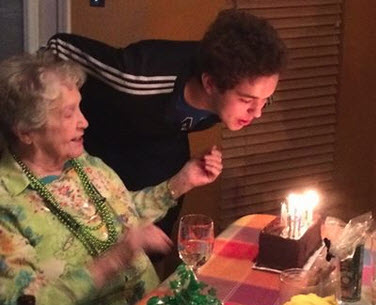 3.29.2014. On Thursday, March 20, we flung open the gates of our wintry hermitage and took to the road -- headed for St Louis, to celebrate my mom's 89th birthday and nephew Brendan's 19th (see party photo by KPMcD).
We were hoping for spring, but no such luck. So the family huddled around as if it were Christmas -- talking, snacking, and having a glass or two of wine. I didn't even take my camera out of the bag -- just one phone photo of my grand-niece Brielle loving the new little doll from her Auntie's Workshop (above). Brielle is the perfect age -- 8. She also fell in love with the doll Maeve, who I brought for show-and-tell. "Oh, you could make ACCESSORIES!!!" she cried and ran off to fabricate some paper glasses for her. Too bad we didn't have more time to play.
I think my other softie was a hit too -- it got a big grin from 9-month-old Maya, but that was right before she exploded into a gale of screaming tears, so who knows.
In general this roadtrip maintained my focus on fabric arts. Ellen, Sarah, Jim and I explored Upcycle Exchange ("a shop for makers") for recycled craft supplies. Kathleen invited her old friend Peggy O. to the birthday party -- Peggy, who happens to be 20 years into quilting. We managed to turn the conversation several times to that topic.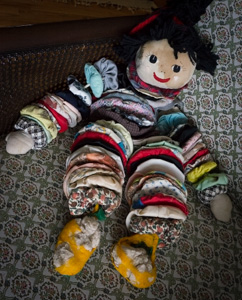 Molly showed up with a giant yoyo doll I had apparently given her when she was a baby (see photo). "She" had been her one of her favorite dolls, Molly said, and she used to study all the different fabrics of the yoyos. But the doll got all stretched out and worn, the worse for having been in storage now for many years. It was a clear case of "Velveteen Rabbit" syndrome. I offered to take her home with me for revitalization.
Aside from catching up with nieces, nephews, siblings, long-lost cousins, old friends and my mom, I spent quite a few hours working on my mom's computer system (desktop, laptop, iPad, 2 printers, plus my brother's collection of old handmedowns). It needs a name -- maybe "Satan" or "Beelzebub." I think, Beelzebub works. It translates from the Old Testament as "lord of the flies" -- flies being the malware and password mischief that haunt her system. Beelzebub sucks in the attention of all the Price girl techies, each with our own method of exorcism and idea of "order" (big notebooks, little notebooks, LastPass, google docs, etc.) So this was my turn to chase away the nasties and restore order. I think I left it in working condition... for now.