Doll Hospital: Miss Tolly Out Of Rehab!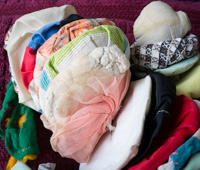 4.22.2014. (Cont'd from 4.5.14) After her basic clean-up and then major foot surgery, Tolly was ready for the rest of her work. Except for the feet, our goal here was not a complete makeover, but a gentle preservation. As a doll who survived more than 30 years through many tough times, she absorbed enough Molly-love to become as real as the Velveteen Rabbit. I just wanted to patch her up enough so that she can continue to beam her love.
For this last phase of rehab, I patched up 3 or 4 of Tolly's yoyos -- only the ones where the stuffing had popped out (see small photo). The rest of her yoyos will continue to look worn and faded or discolored... but that is her nature -- an old doll made from used clothing. Like wrinkles on an old lady's face, her battered yoyos bear witness to a full life.
One of her problems was that the shoestring-style rope that formed her "skeleton" was stretched out, even though it was still good and strong. I gathered up the excess at her "heart center" and bound it up with strong thread (see photo). Better.
Last, back to her head. Her right eye-white was replaced and her cheeks pinked up a little. A damp cloth laid across her brow tamed her bangs.
She has such a friendly face. Every time I see her, sitting in her basket in my studio, I have to smile.
But she is homesick for Molly. I'll enjoy taking her back to St. Louis when we visit there in June.