Spirit Cloth 101: The Beginning
5.10.2014 I kept tripping over the "spirit cloth" work of Jude Hill on Flickr and in my Feedly feed. Her handstitched quilty-applique-embroidered collages are full of texture and magic. I was happy to discover that she had online classes. I had to try.
Her work appears all raggedy and intuitive -- out of my comfort zone. Usually when I just throw things down, I wind up with an unsatisfying mess. But I'm learning there is a process here, a structure. Yes, of course: an opening ritual -- the invocation that summons the Muse. In this case, it's creating a base layer -- layers of soft cotton hand-basted together.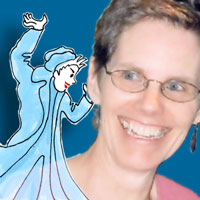 Jude suggests that making a 9-patch sampler is a good beginner project. I got out my secondhand remnants and picked out a blue/ivory plaid (grids are good) and a print of big blue roses. I dumped the roses fabric into some instant coffee dye to mute the bright white background. One of my unifying themes would be "blue."
About the time I had the two layers basted together, the Muse must have been sitting on my shoulder, taking an interest in the project. I found myself pulling out my pocket collection, begun when I was ripping up Jim's shirts for last fall's quilt project.
At first the pockets seemed too big for the cloth I'd already cut, but it worked out. I'm in the process now of appliqueing the 9 pockets to the base. Three are from old blouses of mine; six are from Jim's shirts.
So... blue and pockets. Where will I go from here? For Jim, shirt pockets are essential for pens and pencils, tissues and eyeglasses, and once upon a time, his dentures. I don't use shirt pockets much, so I'm thinking more symbolically. Pockets are "female" and they hide things... secrets, surprises...