Upcycled Sweatshirt: Inspired to Slash & Sew
7.19.2014. It was cool yesterday morning as we headed outside to paint our little table. So I dug out an old sweatshirt. It was a thick XL 90% cotton shirt I received as a gift from Xerox Business Systems' Learning Dept. after a tour, circa 2000. It was printed with a photo of Albert Einstein and his famous words: "A problem cannot be solved from the same conscioiusness that created it" -- a reformers' motto.
Inspiration. After the table got painted and the air warmed, I pulled off the sweatshirt and cut off the slightly stained collar, cuffs and bottom. My 5-gallon vat of indigo dye was still on the porch, so I gave my shirt a dunk.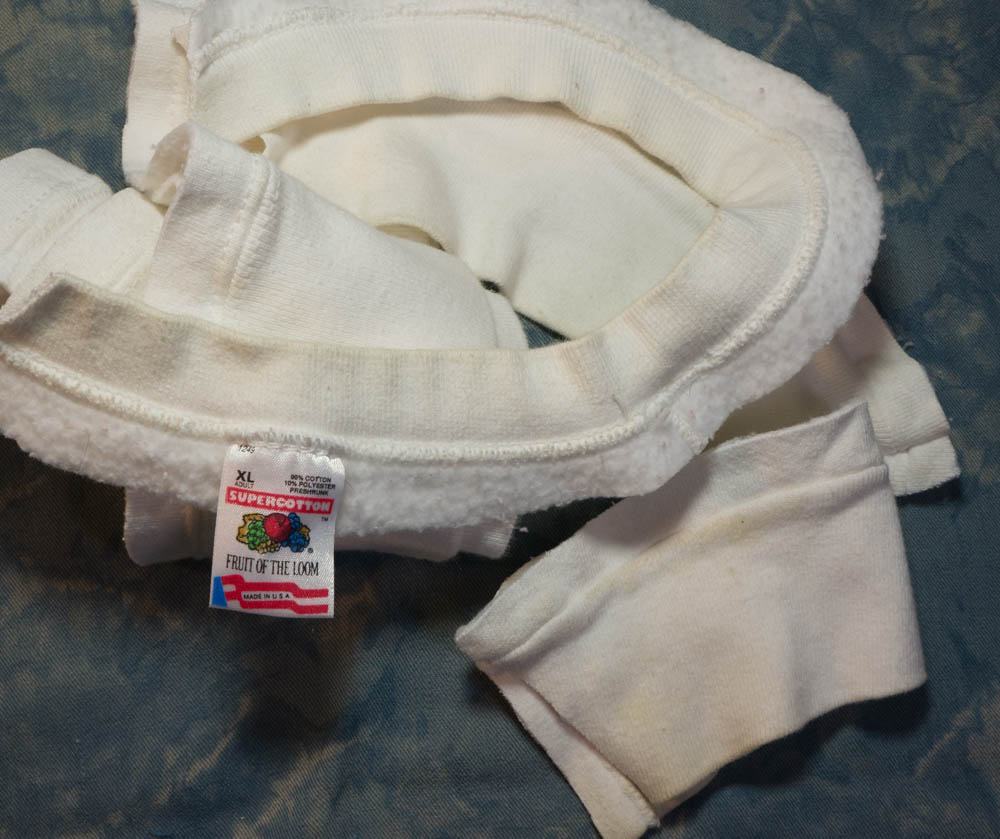 Recently, I've been inspired by the work of the amazing Natalie Chanin (watch the video) and her Alabama Chanin enterprise. Her iconic clothing features straightforward raw edge appliqué and reverse appliqué on t-shirt material, all hand-sewn. I have her book "Alabama Stitch Book: Projects and Stories Celebrating Hand-Sewing, Quilting, and Embroidery for Contemporary Sustainable Style." The book gave me confidence to fiddle with my old sweatshirt.
So after the sweatshirt was washed and dried, I did a simple running stitch around the raw edges with #8 perle cotton and chenille needle. I loved the effect and now wanted to cover up the XBS logo. What to do, what to do....? An appliqué, yes... but a reverse appliqué would be way cooler. I got out my bag of old knitwear and found a Target t-shirt with a Redbook logo on it. A heart! A face!
Cutting out the heart was easy enough but wrestling the fabrics together was tricky. I used lots of pins and whipstitched the edges to the bottom layer before doing the running stitch outline. I probably should have stabilized the whole deal in a quilting or embroidery hoop. Anyway, a movie and 6 "Frasier" re-runs later, I had my fashion statement: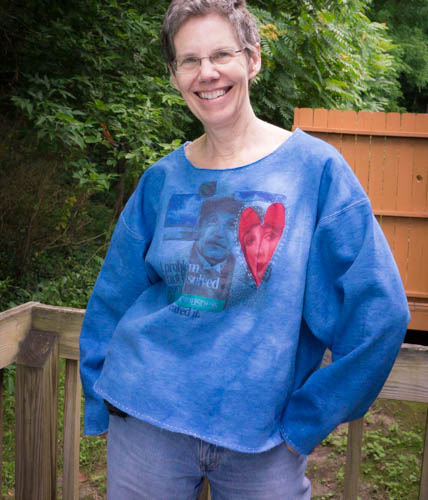 It doesn't have the drape of fine couture, but now I can face chilly mornings in style: ***