Batik, or Doodling with Hot Wax
7.27.2014. I'd been working up to this day for months. I can't even remember what compelled me to buy the wax, wax heater and odd little djantings (the Indonesian instruments for drawing in wax). But they have been waiting for me. And I have been stalking this prey. Get some dyeing under my belt -- okay, got the indigo pot going. Do some easier resists -- okay, folding, clamping and tying, shibori style. I took a Craftsy course: "The Art of Cloth Dyeing." Then I found another: "Fabric Patterning with Wax Resist," taught by Malka Dubrawsky -- perfect! She tacked fabric to a cardboard box for a frame and she used carrots and celery to make designs. I can do that!
Photo below: Muslin stretched across the opening of a cardboard box (djanting and wax melter on right). I did the bottom half first. A brush (till the plastic handle melted, oops), then a carrot for the big dots. I turned my fabric around and decided to use the big-girl tool -- the djanting, which is a little copper bowl that fills with wax. The wax streams out the tiny spout. Yes, the results were a little drippy, but I had more control than I expected. Maybe it was the wafting fumes of parafin + beeswax. Maybe it was the wine I began toasting myself with. But I was definitely on a high.
I did some freehand "suns" on a plaid remnant. Then I made a triangle out of cardboard to use as a stamp on that linen tablecloth I keep cutting pieces from. I threw the three pieces into a bucket of cool water to get them thoroughly soaked before dyeing.
Next step: wake up my indigo dye vat that has been sleeping for a week under the table on the deck. Fingers crossed.
Phew. They emerged from the dye bath the standard lime green, but soon turned the proper blue in fresh air (see below).
Getting the wax out became a major production. At the dinner hour, there we were with a pot of boiling water on the stove and buckets of rinse water all over the kitchen. I think my pot was too small -- I should have used my dormant canning pot for this job.
Long story short, with only my left hand scalded, the three little rags were ready to be laundered, dried, and pressed. I love them as only someone who loves learning curves can love a new skill aborning.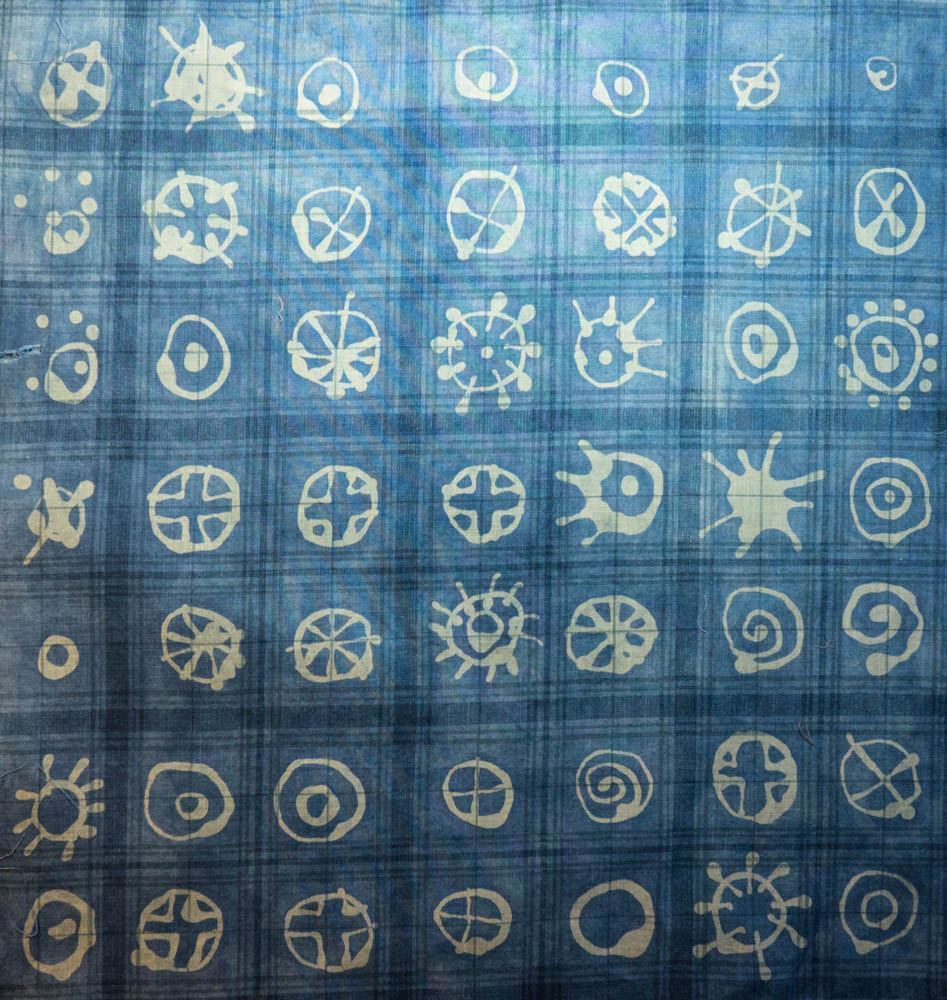 ***