Roadtrip: Catoosa OK to Amarillo TX (Five Things)
10.18.2014. Five things about today's 381 miles (by our odometer) -- or 353 miles by Google tracking (map above):
1. Oklahoma Route 51 west of Tulsa takes a while to graduate from Tulsa/Oklahoma City exurbia. But after the intersection with US 81 it settles down to the land of pickup trucks, wind turbines, and small cattle herds. Giant herds of wind turbines -- a sight to behold. (See a few in the photo below.)
2. The Plains. I love to drive the plains. I love the scrubby texture and the colors -- dusky green, straw, ochre, red and a gray that looks like lavender -- plus the blue sky. But today the road was SO straight for SO long that I was sure the clock had stopped working a couple times. The Plains... where it is always 10:15 AM.
3. Texas! We hit the Texas panhandle and the timeless Oklahoma plain went berserk as the landscape opened up to big vistas, wild angles and high buttes in the distance. I was awake! We drove through the panhandle in 2008 but it was on the interstate. I'm so glad we decided to take the old highways this time. And where else can you go 75 mph on a two-lane highway but in cowboy country? The photo below does not do it justice.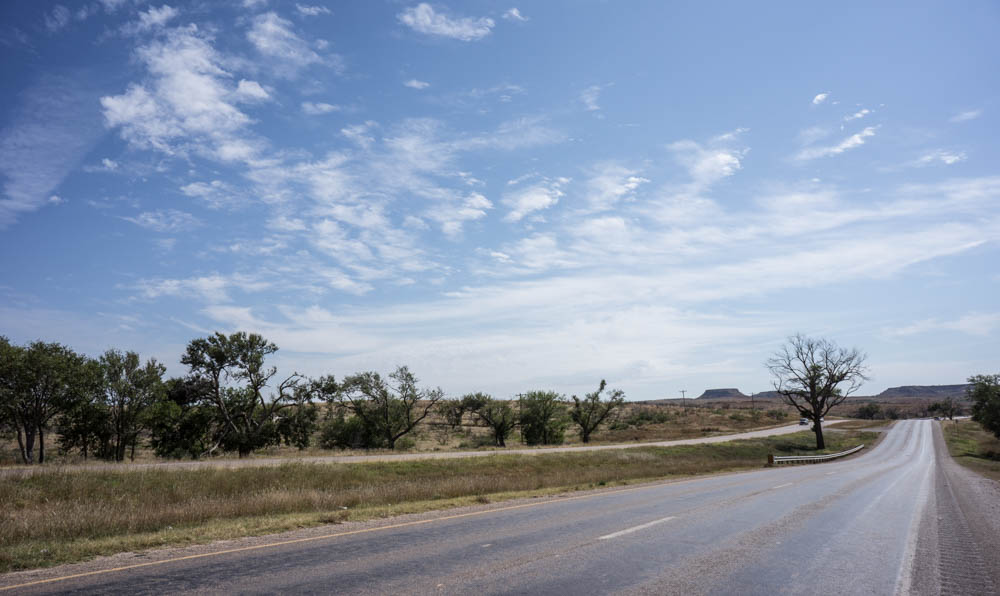 4. US 60 vs US 66. I grew up along Route 66 and love the idea of "the Mother Road." But the "revitalized" 66 hugs I-40 and is a sporadic exercise in looking at the 1950s ironically. Meh. We looked at the guidebook last night and opted out. Vintage hokey commercialism is still commercialism and still hokey. I'd just as soon have the road to ourselves and contemplate the prairie grass.
5. We really are about the road and not the destination. We drive. We observe. No deep thoughts. Just taking note. Real people live along these roads. They do the best they can at jobs in ranching and in the energy industry. We suspend judgment. Grain elevators and oil refineries are awesome pieces of human ingenuity. Drive on.
***