Roadtrip: Salida to Estes Park, Colorado-- Five Things
Monday, 10.27.2014.
1. 218 miles today of curvy mountain road.
2. Our main destination was Golden, Colorado, home of the Rocky Mountain Quilt Museum. "Main Street" in Golden gives the appearance of a little arts town, but behind the restaurants, galleries, and consignment shops are some big industrial plants, which we passed as we got lost getting out of town. Coors? We couldn't tell.
The quilt museum was way smaller than I'd envisioned. But the women there were friendly.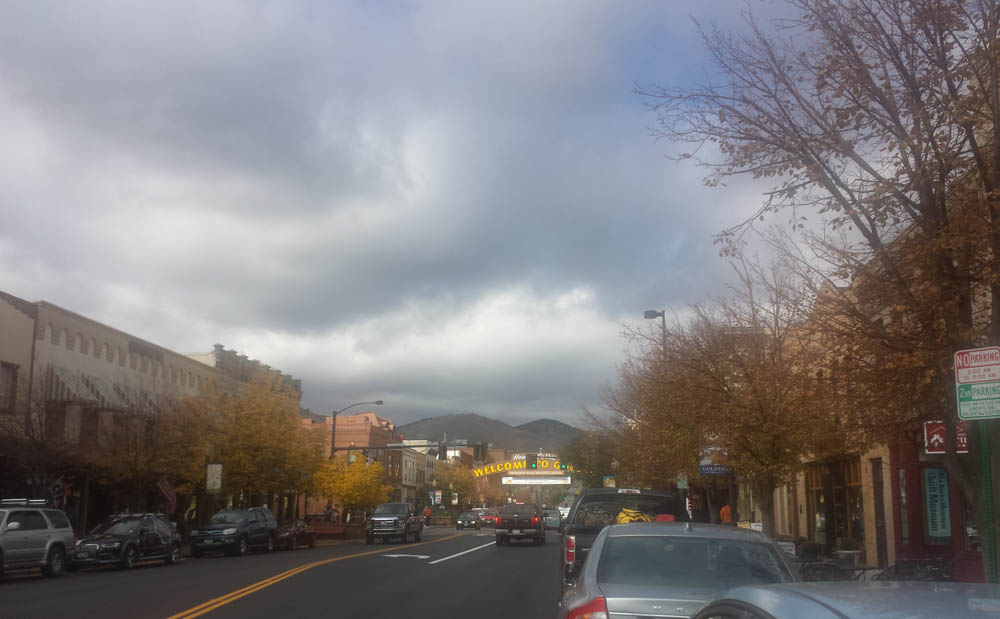 3. After lunch we set out for our hotel in Estes Park. I got into a big argument with Mother Google. She gave us a scenic route. Then it disappeared and we were left with routes through Boulder. I was really kind of tired of mountain switchbacks, but got stubborn. So off we went on our own to find Rt. 119 via US 6-West. We got lost several times, despite Jim's attentive reading of his paper maps. Anyway, when we finally got pointed in the right direction on US 6 -- holy moly. We were traveling through a canyon and Mother cut us off. I was cursing my stupidity and wishing we had just gone the easy way. Jim took photos from the car window, which turned out better than we had any right to expect.
I paused the car for this one:
4. On Rt 7, skirting the Rocky Mountain National Park (switchback, switchback, switchback), we drove through snow flurries. Made me nervous. Yay, snow. Oh shit, snow.
5. So glad to settle in here at Murphy's Resort, looking out on Lake Estes. It's cold! This old gray mare didn't want to go out to find dinner, so we sent out for Domino's pizza. Gosh, it tastes wonderful. Tip for "motel campers": bring a couple of plates and some silverware. Makes all the difference...
***