Stitching: Trusting the Process...?
Thursday, 11.6.2014. Sometimes I come home from a trip and launch into a surprising new project with jet-propelled energy. Not so much this time. The hands want to work, but the brain is quiet.
There is a free-motion quilting project set up on the kitchen table, but I'm not in the mood for 2-1/2 weeks of intense machine-sewing. I think that might be a January project.
My Magda the Thunder Parrot is the beginning of something, but I don't know what. How many scarves and quilts and wall hangings does a person need? Especially since everything is experimental and not really geared toward gift-giving.
I signed up for another Jude Hill Spirit Cloth course: Contemporary Boro #2, which is aimed at thinking about modifying and repairing old clothing. That has me stitching down the placket in a nice Irish linen shirt, which has never laid quite right around the collar. I'm seeing if I can turn something I never wear into a new favorite. (See photo at top.)
The course also has me considering how to make a jacket from the African indigo cloth I bought in Santa Fe. It was fun to make a paper doll of myself (photo below).
I've also been sitting in my chair making "doodads." If I think of them as false starts, I'll be discouraged. "Experiments" are better. Or "embellishments for future projects." My color sense seems a little on the fritz. For the checkerboard (photo below), I wove lots of purple/red/orange strips with pale green-print strips. It's just enough "off" to be disturbing. Maybe it will look better to my eyes in the spring. I like the little face that I copied from a book of Coptic Christian art -- a saint with watchful eyes. Maybe I'll incorporate him into something... with a heart?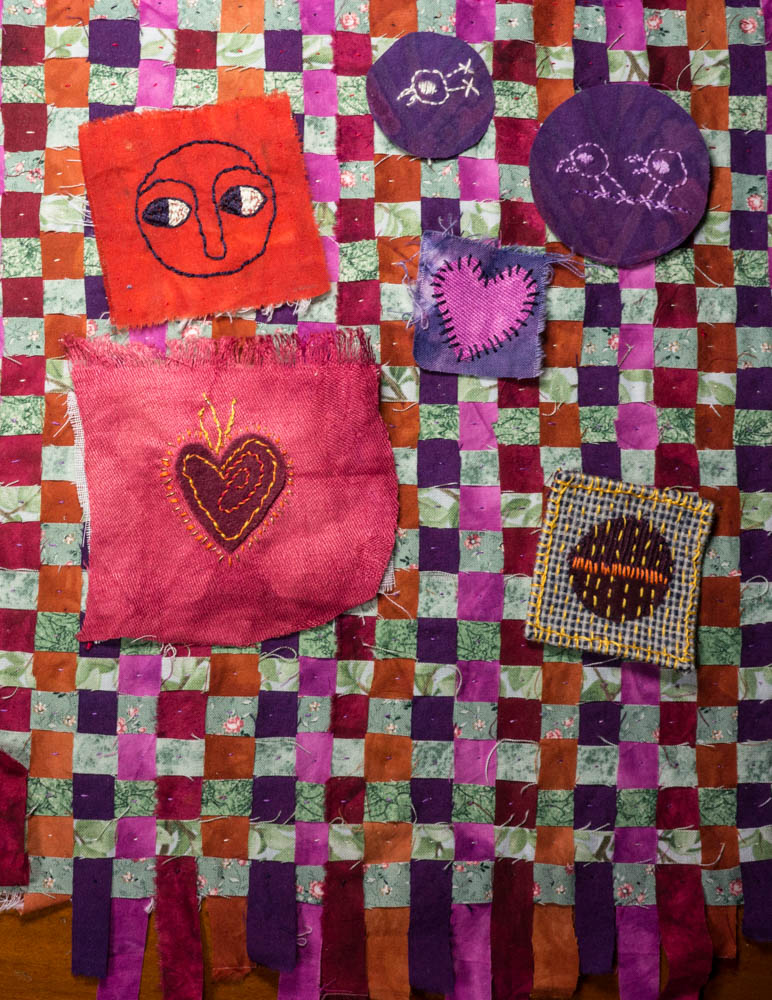 So... I'm just doing... letting my hands take the lead... waiting for the lightbulbs to start flashing...
***