On Being Fierce, Part 3: Moving the Pretty Envelopes
Jun. 18, 2015. (cont'd. from 6.17.15) Memo to self: being fierce needs plumage. New glasses. Platinum hair. Check. Check. Throw in a facial and a new tube of lipstick. Check.
Next. If we're going to buy a "staycation" house, we're going to want to spend money on extras (extras... like a bed... or a telescope). Time to crank up the old selling machine.
Here's where preparedness saves the day. With one foot into house-buying, a card came in the mail advertising the Rochester stamp club show. I knew Jim had a lot tied up in his collection of Civil War patriotic covers (aka illustrated envelopes). We'd spent a chunk of time not long ago counting them up and doing some research. I had also identified one of the dealers Jim had done most business with. And he was going to be at the show. Time to pounce!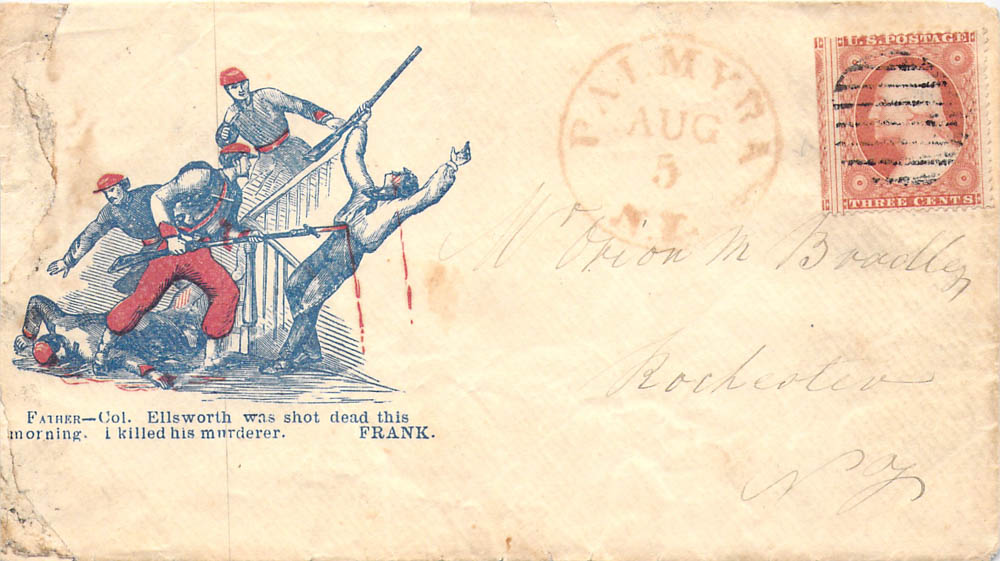 So we loaded up our granny cart with a couple fat notebooks full of covers and got our selling smiles on.
Here's what I like to see: the dealer JA recognized Jim immediately. "Whatever you have in that cart," he said, "I'm interested. I know your taste!" I suppose that's code for knowing that Jim was a big spender but it still gave me a buzz.
JA and his wife came by our house after the show to look at the rest of Jim's patriotic covers--about 9 binders full of them--something like 1500 altogether, about 300 of them the more valuable "postally used" ones (illustrated on this page). Long story short, we struck a deal and JA took the whole collection away.
It's not only fun to sell and to have my collector-husband appreciated, but it's also great to find someone else gushing with enthusiasm for the small collectible bits of history that these envelopes represent. The envelopes are 150 years old. Lucinda of New Philadelphia, Ohio; Orion of Rochester NY; Elisabeth of Wessonville, Iowa; Arvilla of Northwoord, Iowa; and hundreds of other correspondents and collectors all bothered to keep them. Every envelope told a story and inspired a love of history, generation after generation.
I started this series talking about ENERGY. Well, selling this collection goes beyond pumping me up to make some cash for household extras. It liberates these historic envelopes from our dusty shelves to energize a new generation of enthusiasts, who will use them as a tool for learning about history and for learning that a physical object is very different from a digital image. It has heart.
***