On Being Fierce, Part 4: Opening Shop
Jun. 20, 2015. (cont'd. from 6.18.15) Selling the Civil War cover collection was a boost. Did we have other moribund collections we could liberate for cash? This thought process reminded me that (1) collectibles are not necessarily very liquid. A stash of cash is for a rainy day; collections are for some misty season down the road when the gods decide it's the right time, right place... after the collector has totally lost touch with the market. (2) A collector is usually not a savvy investor. A true collector buys for love. In general he buys retail (from a dealer), but must sell wholesale (back to a dealer)--not a good investing formula--unless the collection is decades or centuries old... or the collector hits a bubble. (3) Yes, like stocks, collectibles enjoy bubbles and suffer busts. In the eighties, it was all about classical Japanese prints and painting. Now the market snubs Japanese and scrambles after Chinese. With this in mind, let's return to my saga...
We happened to stop by All That Jazz antique emporium. We always find neat things there, reasonably priced. Plus, the owners always recognize Jim as one of their best customers of yesteryear. I got some Franciscanware dishes and a couple of R&F spaghetti bowls. We noticed an empty case. What's the deal? The owner explained that there was a monthly fee, with a minimum 4-month commitment. Hmm...
Let's do it! That fierce energy kicked in. A case in an antique mall might be just the thing for our odds and ends -- especially those left over from Jim's antique firearms collection (which we sent to auction a couple years ago). And it would save me from starting up an eBay store again--fun back in the day, but I've moved on. It's also an opportunity to sell retail, even though the exposure doesn't measure up to the internet. But it was worth a gamble.
First up: 19th c. powder flasks, Civil War era leather holsters and cartidge cases, and a hodgepodge of novelty mini-cap guns (image below).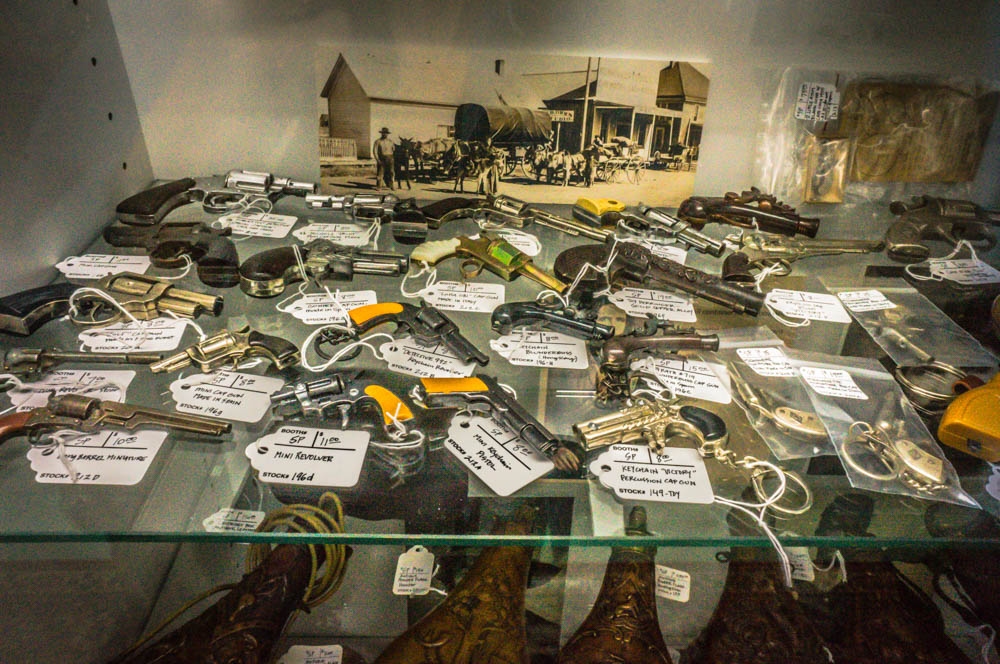 Luckily, I had inventoried the powder flasks and the toy guns, so we just had to come up with prices. Unluckily, my research revealed that a few of Jim's powder flasks were reproductions. Jim had vastly overpaid. It appears that one of his "good buddy" dealers took terrible advantage of Jim's enthusiasm. Then, when the guy was going out of business (probably because he didn't play straight), Jim kindly bought lots of his stuff--not at fire sale prices, but at full retail. Believe me, I was grumbling when we had to price the offending flasks as mid-20th-century decorator items, not as the real deal. But these are the lessons learned. (Lesson #4. The collectibles business is full of characters, many of them endearing. Enjoy their company, but don't be a chump... easier said than done, I'm afraid.)
The stuff we are currently selling is kind of... brown. So I decided to decorate our case with enlarged faces from some of our old photos--under my theory that faces catch your eye. I also did a little explainer about "powder flasks," because I for one had no idea what they were till I began the inventory. Before gun owners could buy or make cartridges, they had to carry around black gun powder, caps, and bullet/projectiles separately. Metal powder flasks were an innovation over the cattle horns of Revolutionary War days. Some are gorgeous (see image below).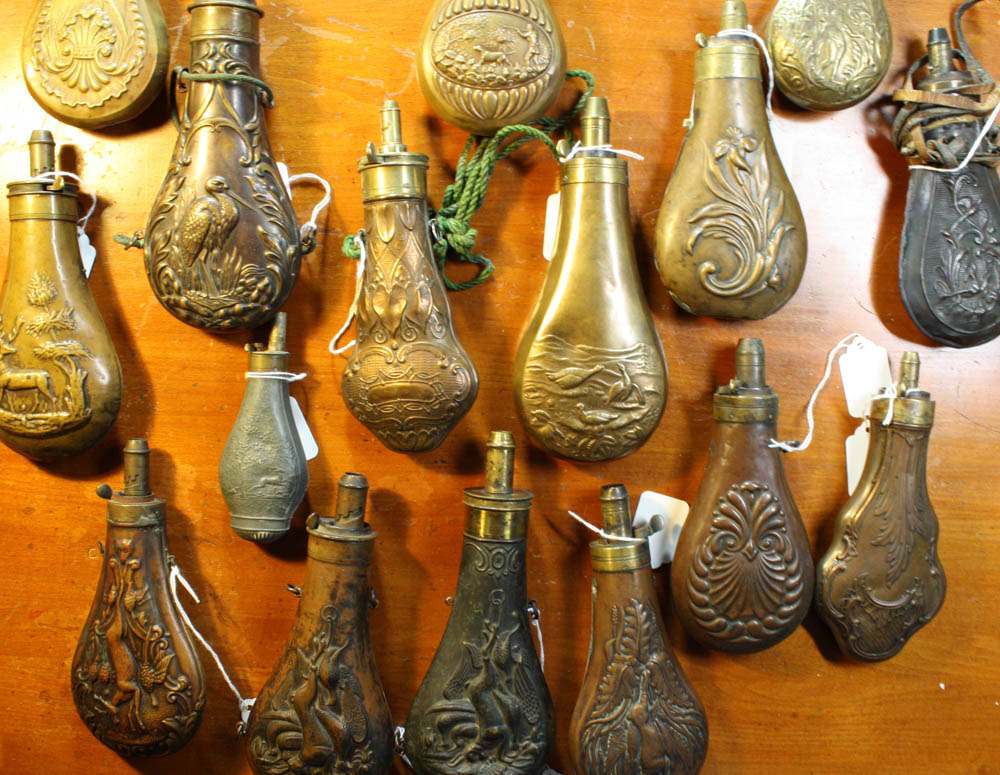 This week we inventoried and priced another couple dozen Civil War knickknacks--hat insignia (high price, see photo of Cavalry insignia) and corroded old bullets dug up from battle sites (low price).
Will our case be successful? It is unique compared to other cases in the shop--more guy oriented. But Lesson #5 is this: what you DON'T see in an antique mall case is what sells fast. Are we not seeing militaria at ATJ because it flies off the shelves like hotcakes--or because it's the wrong venue altogether? Only time will tell.
Meanwhile, Case 29 is OPEN FOR BUSINESS.
***