Ship Watching: Nerdgasm
July 31, 2015. What I wrote in Facebook on Thursday when I saw this ship: "Nerd alert! Just as I settle down to a little quiet work, I spy a boat in the distance. Binoculars. Oh! That's no sailboat! Quick! Telephoto lens onto camera! Jim, look! Look! Aperture Priority setting! Click! No! Shutter Priority setting! Click! Click! Got it. Marine Traffic app...what's near? Ah! The "Limnos," a Canadian research vessel, 2.34 nautical miles from here. I suppose it's like spotting a whale in other locales... you know the big ships are out there but they rarely make an appearance. Ok, back to work, everyone."
Today I saw another. Farther out on the horizon. Heading east. I had to alert my friends down the road in Williamson. It was a big one: the "Stephen B Roman," a Canadian cement carrier.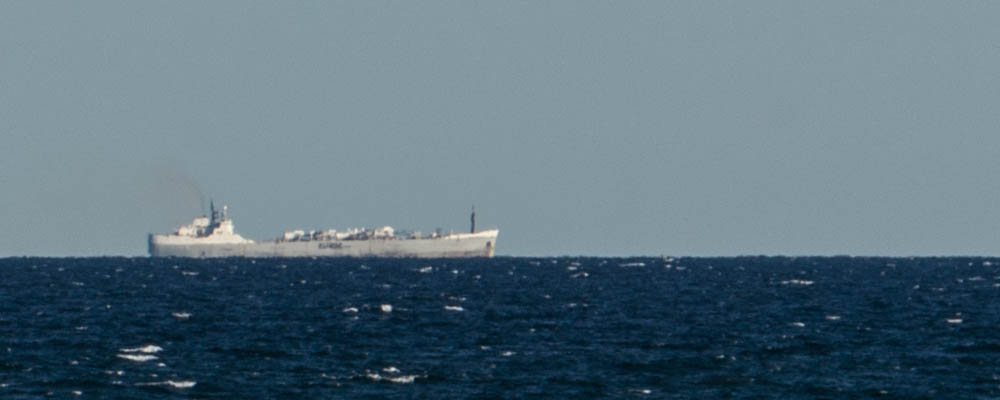 It was way out--nearly 7 nautical miles. Binoculars and a telephoto lens required. But seeing it and doublle-checking my app for distance did substantiate how far one can see over the water from our porch.
When we moved here I had a vague hope to see ships--a residual delight from our Great Lakes shipwreck-diving days, when I knew some of the old lake lore. But the shipping lanes are really far out. When I saw the first ship on 9 July, I thought at first it was a low-lying shred of white cloud. I squealed when I saw it was a big ship. I hurried to get the telephoto lens on my camera and snapped a couple shots.

Immediately I found a website that located all the ships on the Great Lakes. It showed a ship nearby and led me to the Marine Traffic app. My Facebook entry: "Thrill of the morning: saw a ship on the horizon, looking all white and ghostly... like a cloud. Then some quick googling to discover its details. A bulk carrier ["Federal Schelde," flying under a Barbados flag] originating at the far end of Lake Erie, between Detroit and Toledo... heading for Damietta, Egypt. (app: "Marine Traffic") #watchingtheworldgoby"

When I discovered I got a good photo, this was my entry on Facebook: "Ooh-ooh, I did manage to capture an image of yesterday's ghost ship on the horizon (Federal Schelde... or Flying Dutchman?). In another of a series of brief obsessions, I began reading up on 'how far away can you see a ship on the horizon'... assuming you are about 20-25 feet above the water surface... but apparently I missed that class in trigonometry... My app said the ship was 20 miles away... so very lucky sighting, I think, on a very clear day." Actually, I believe now that I misread the app and that the ship was traveling at 20 knots.

Now I look at the Marine Traffic app regularly, just to feel part of the big busy world of Great Lakes commerce. We are an island in the stream. A couple days later I did see the "Grand Mariner," a passenger ship out of Sodus--cool, but not quite the thrill of the "Federal Schelde."

But here is a puzzle: when I look at my photos above of "Federal Schelde" and "Stephen B. Roman," they look exactly alike. Hmmm... maybe the "Roman" hadn't signaled their presence to the Mother Ship...

Whatever... seeing the ships is an emotional thrill because they are such rare birds in these parts. Then there is the intellectual thrill of finding their names, their flags, their missions, their ports of call. A connection gets made. Now I know you. I can wish you well. Godspeed.

***

"