Mad in Pursuit Notebook
Today
Learning: Snow Dyeing Experiment
Jan. 5, 2016. In winter, you make the best of it. You make snow an ally. Short of skiing, you can use snow to make patterns on cloth... or so I read. Is this really a thing? I decided to test it out.
1. I "scoured" some muslin, some old linens, and some old lace. That is, I washed the cloth in hot water (gentle cycle), with additive-free detergent and 1/2 c. washing soda. (Cloth needs to be 100% cotton, linen, or other natural fiber.)
2. I took a sampling (linen napkin, linen coasters, scrap of muslin) and soaked them in a solution of salt and soda ash [formula: 1 gal. warm water, 1/3 cup soda ash (fixative), ½ cup salt (brighter colors)] for an hour. (Half hour is enough. But I ate lunch. This solution can be reused for other projects.)
3. Put the squeezed out and twisted cloth in large plastic, glass, or stainless steel container. (Here I used a colander, but have since found it unnecessary to my intentions.) Note on arranging the cloth: the color moved from top to bottom, losing strength as it goes. To get color patterns evenly over the cloth, I've learned to lay the prepared cloth flat, then scrunch it from the edges toward the middle. This helps the dye hit the surface evenly, without it winding up concentrated in one corner or one edge. See image at bottom.
After the cloth is scrunched, I piled snow on it. (Ice cubes can also be used.) Sprinked on some Priocion dye powder (probably about a teaspoon altogether) -- duly wearing a dust mask, even though it makes me claustrophobic. Used Basic Blue, Mix Blue, Turquoise, and Emerald Green. See image below for the resulting set-up. (This process should be performed on top of a damp towel to catch any stray dye molecules. Rubber gloves and an apron also useful.)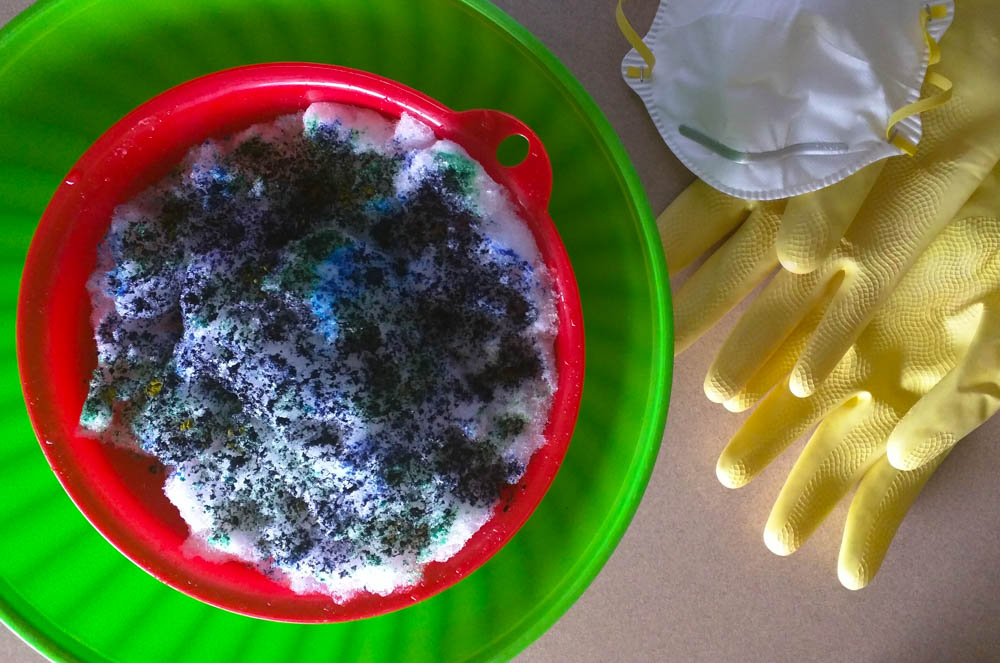 4. Covered the set-up with plastic wrap and set it near a heat run overnight (about 20 hrs, actually).
5. Washed fabric in cold water with blue Dawn, till water ran clear. Washed in hot water with blue Dawn to set colors. Ironed. (This can be done right in the washing machine, esp. if you have a large project.)
Results. Interesting mottled color overall, though the unbleached muslin colors were muted compared to the linen. The linens were brilliant.
The image below is another project, using 100% cotton pillowcases and the improved scrunching technique described above.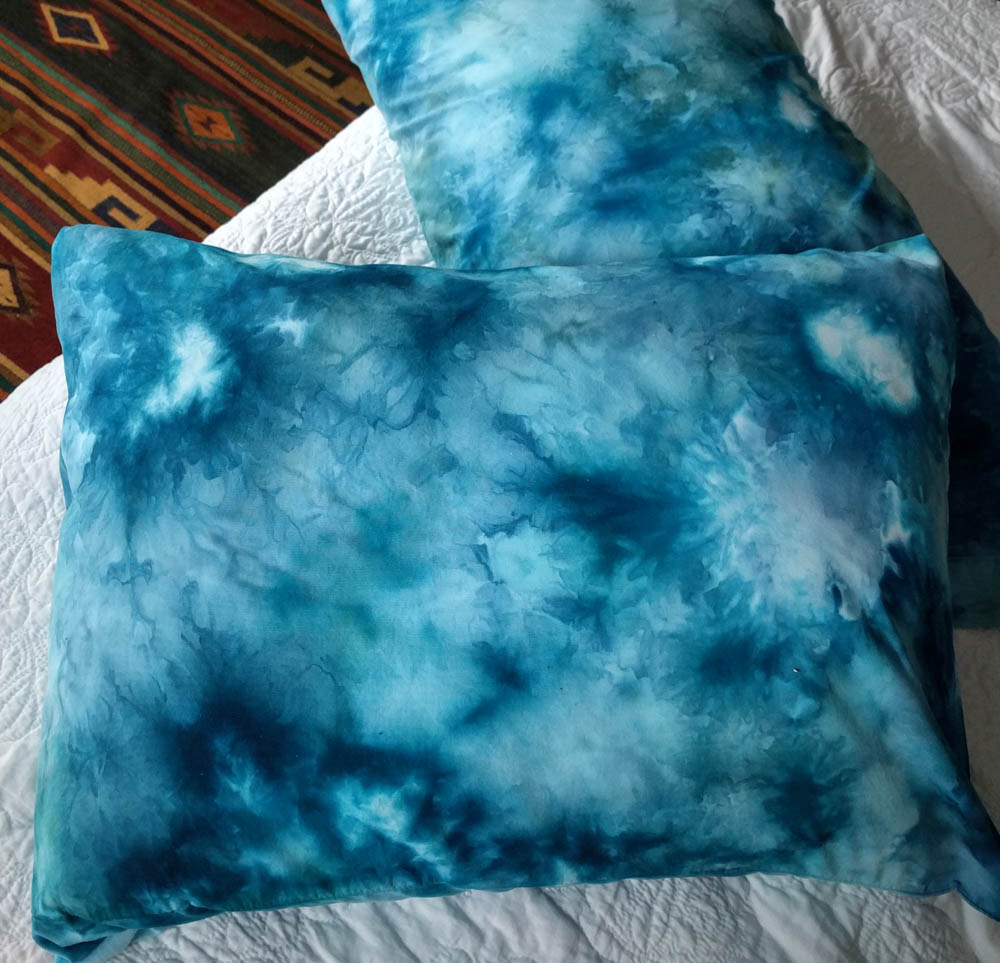 ***
---
THE SUDDEN SILENCE: A Tale of Suspense and Found Treasure (2015) Thailand: lovers of ancient treasure tangle with international black markets. Delia Rivera pulls Martin Moon back into the game and their quest turns deadly. In paperback and Kindle editions.
TRIBE OF THE BREAKAWAY BEADS: Book of Exits and Fresh Starts (2011) Time after time, Mary asks herself: Do I go or do I stay? She finds her power in her ancestors: Smart women turn discontent into action. An illustrated memoir in paperback and Kindle editions.
PASSION AND PERIL ON THE SILK ROAD: A Thriller in Pakistan and China (2008) The twin forces of revenge and redemption drive Nellie MacKenzie and Taylor Jackson on a crazed adventure into the heart of Central Asia. They grapple with issues of ethics, trust, rage, and bitter heartbreak -- as well as the intrigue of the international antiquities trade. In paperback and Kindle editions.
Connect:

All pages in this website by Susan Barrett Price are licensed under a Creative Commons Attribution-Noncommercial-Share Alike 3.0 United States License. [The snowstorm image at the top of this page came from Wikipedia, under a Creative Commons license.]