Mad in Pursuit Notebook
Today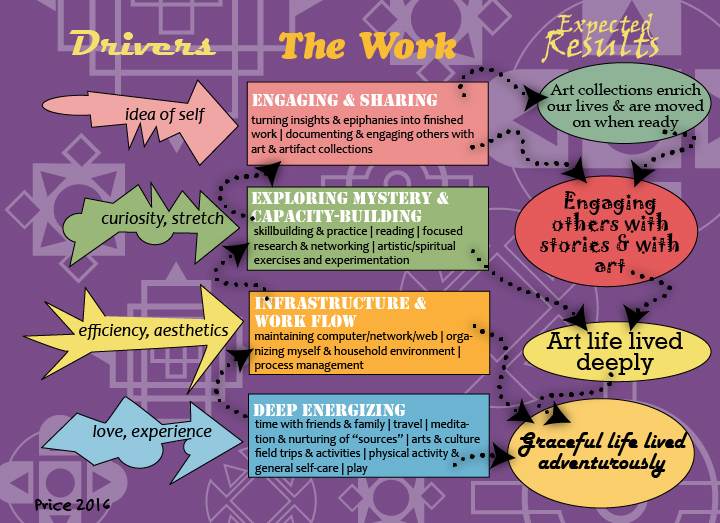 Organizing for the Art Life in 2016, Part 1
Jan. 9, 2016. I've been auditioning 2016 for over a week now. I decided to return to a scheme that served me well a few years ago. I organized my "art life" into 4 layers, or modes: production, exploration, infrastructure, and energizing. For day-to-day, I also remain a fan of the Getting Things Done (GTD) approach, which advocates a "reliable in-box" (the digital or physical shoebox), focus only on "the next thing" (instead of generating overwhelming lists that make me just want to cry), and regular reviews.
The graphic above is a slightly revised version of what I used in the past. As I conceived it years ago, the "art life lived deeply" is a component of my general aim for a "graceful life lived adventurously." Here is today's reminder to myself about what the categories mean.
Production Mode. Work meant to generate an expected result, meant for publication or other sharing. Finishing a project. Getting out the product also applies to achieving milestones in cataloging, exhibiting, and selling collectibles from our treasure trove. I guess this is the payoff for the other modes below, if an retired person like myself still considers herself to be working.
Exploration Mode. Working for improvement, pushing the enveloping, experimenting. Learning and skillbuilding.
Infrastructure Mode. Maintaining/improving all the systems that support the work. Organizing the work space, upgrading the computer, rearranging files (physical, digital), upgrading web pages. This is a seductive space for me to get stuck in.
Energizing Mode. Play and other activities that nurture openness to the mysteries beyond my small world and stoke my eagerness to delve into them. Rituals. Maybe throw in here some wildcards -- like photography (exploration or a pleasant procrastination to entertain/torment my Facebook friends with?).
Next: More about Production Mode for 2016>>>.
***
---
THE SUDDEN SILENCE: A Tale of Suspense and Found Treasure (2015) Thailand: lovers of ancient treasure tangle with international black markets. Delia Rivera pulls Martin Moon back into the game and their quest turns deadly. In paperback and Kindle editions.
TRIBE OF THE BREAKAWAY BEADS: Book of Exits and Fresh Starts (2011) Time after time, Mary asks herself: Do I go or do I stay? She finds her power in her ancestors: Smart women turn discontent into action. An illustrated memoir in paperback and Kindle editions.
PASSION AND PERIL ON THE SILK ROAD: A Thriller in Pakistan and China (2008) The twin forces of revenge and redemption drive Nellie MacKenzie and Taylor Jackson on a crazed adventure into the heart of Central Asia. They grapple with issues of ethics, trust, rage, and bitter heartbreak -- as well as the intrigue of the international antiquities trade. In paperback and Kindle editions.
Connect:

All pages in this website by Susan Barrett Price are licensed under a Creative Commons Attribution-Noncommercial-Share Alike 3.0 United States License. [The snowstorm image at the top of this page came from Wikipedia, under a Creative Commons license.]