Mad in Pursuit Notebook
Today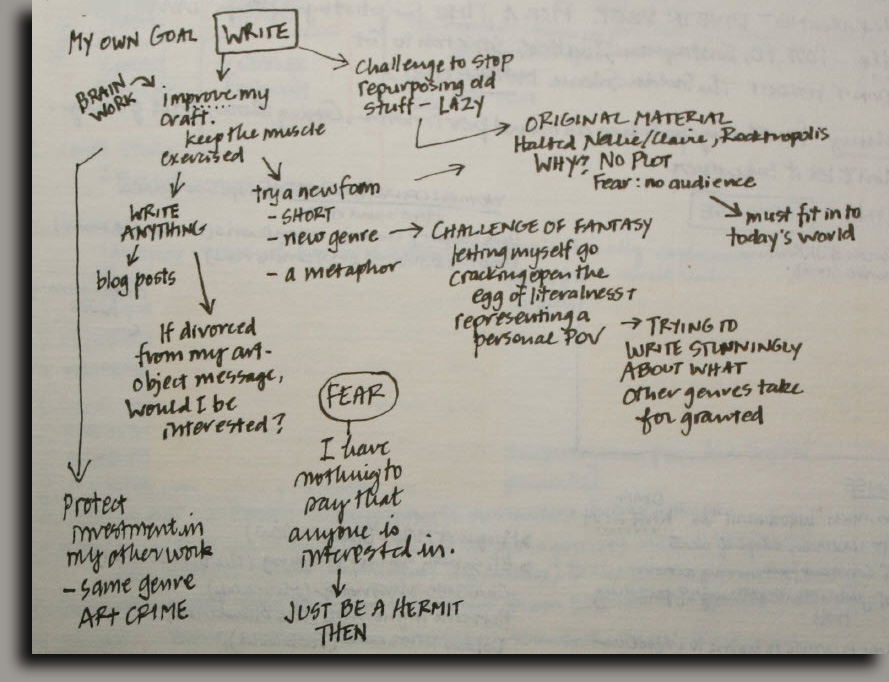 Dark Night of the Writer's Soul
Feb. 22, 2016. Creatives, particularly those who work in their own studios, without contracts, without external deadlines, have our special rituals and incantations to keep the magic bubbling. I keep a notebook that I scribble in on most mornings, to keep the channel between my mind and my hand open. Occasionally, it snares some agony: WHAT THE HELL AM I DOING???
I doodled the mindmap above after publishing "The Sudden Silence." I was trying to get back to a stalled project -- about the secret lives of art objects and the people who crave them -- and wondering if I should bump it into a different genre -- fantasy or magic realism, instead of crime. What were my options? What was I afraid of?
These "dark nights" are part of the creative process. Within two weeks of my mindmap, I was back at work on a fiction project. True, it wasn't the all-new project I had hoped to generate. Still... it's a story worth telling.
***
---
THE SUDDEN SILENCE: A Tale of Suspense and Found Treasure (2015) Thailand: lovers of ancient treasure tangle with international black markets. Delia Rivera pulls Martin Moon back into the game and their quest turns deadly. In paperback and Kindle editions.
TRIBE OF THE BREAKAWAY BEADS: Book of Exits and Fresh Starts (2011) Time after time, Mary asks herself: Do I go or do I stay? She finds her power in her ancestors: Smart women turn discontent into action. An illustrated memoir in paperback and Kindle editions.
PASSION AND PERIL ON THE SILK ROAD: A Thriller in Pakistan and China (2008) The twin forces of revenge and redemption drive Nellie MacKenzie and Taylor Jackson on a crazed adventure into the heart of Central Asia. They grapple with issues of ethics, trust, rage, and bitter heartbreak -- as well as the intrigue of the international antiquities trade. In paperback and Kindle editions.
Connect:

All pages in this website by Susan Barrett Price are licensed under a Creative Commons Attribution-Noncommercial-Share Alike 3.0 United States License. [The snowstorm image at the top of this page came from Wikipedia, under a Creative Commons license.]