Mad in Pursuit Notebook
Today
Summer Dollmaking: Dash (with Dot)
July 1, 2016. The cartoon characters Dot & Dash were doodled into existence in early 2011. I put them to work in a short set of comic strips. In 2013, I had another go at it in Zuzu's Notebook, trying to get Adobe Illustrator to replace hand-drawing. Again, I only got so far. And yet Dot and Dash stay with me, with Dash depictions growing less abstract over time. I did the drawing below just a couple weeks ago.
So when it came to thinking about a summer doll, Dash sprang to mind. It would be fun -- a challenge.
Head first. A needle-felted sphere, with nose. An embroidered face, on old linen. Something askew about the simple line of lip -- ok, an attitude, to go along with the eyeball roll.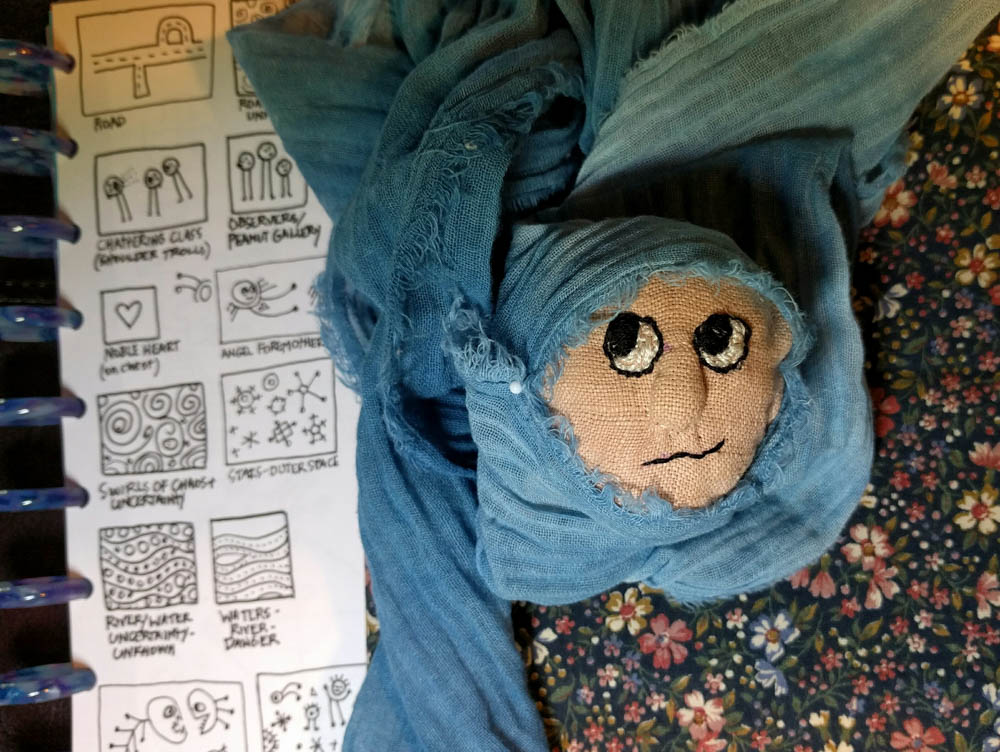 The body then had to be "cartoon" proportions, to make the whole figure less than 4 "heads" tall. Easiest route: wire armature, padded with wool, needle-felted for shape. She turned out to be about 7 inches tall.
Now for the fun: dressing her up. Playing-with-dolls fun quickly turns into a puzzle... especially for an amateur without a plan. But Dash is not glamorous and she doesn't need a Barbie-style wardrobe. So... scraps of fabric are sewn to her arms and wrapped around her torso: her patchwork shirt. A little engineering has to go into her overalls: how to I get the bodice and two legs out of one piece...? Even on "Project Runway" the solution sometimes winds up being draping the fabric on the model and cutting/sewing it into place. There is really no wrong way to make a doll, as long as you're being true to your esthetic. Success.
A couple patches and a Noble Heart emblem were added. (The Noble Heart refers to Dash's tribe.)
Her hair is the fringed edge of a scrap of dyed linen. I sort of backed into her cap, but it turned out great -- the edge of an old linen napkin, gathered around a center circle and embroidered together (see photo below). We found the straw hat later.
It was a puzzle how to include Dot, who flits and sparkles around like Tinkerbell. I was going to slip a Dot into Dash's satchel, but solved the problem by embroidering Dot onto Dash's overalls.
A scarf, a shoulder bag (for tools and supplies), and soles sewn to the bottom of her shoes finished her. Spending time on her feet allows her to stand on her own -- an engineeering feat I can't always manage.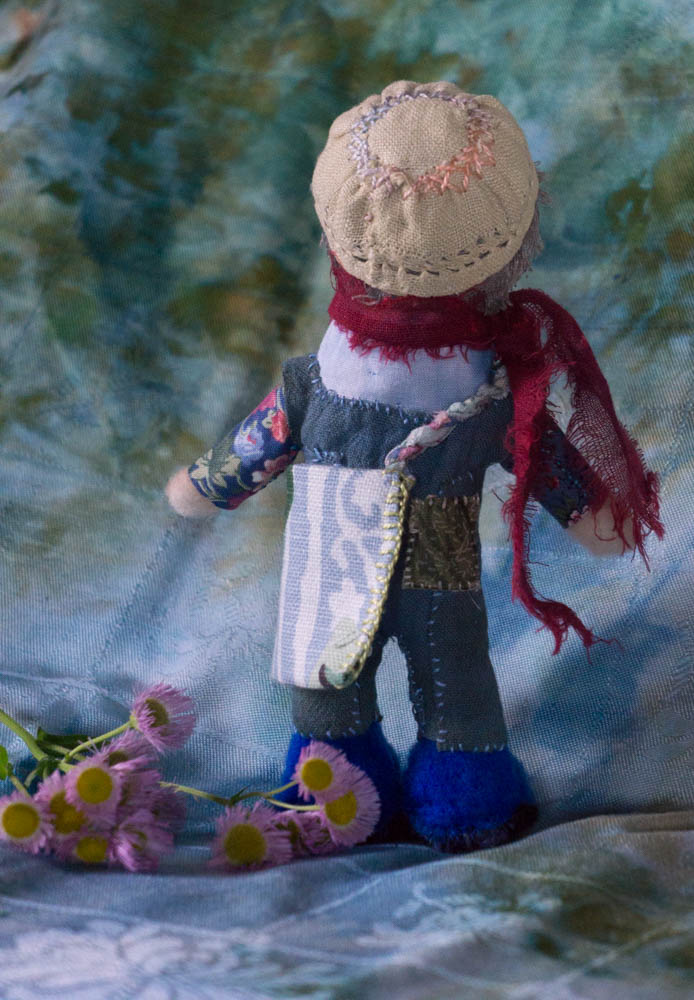 I think anyone with a yen for "making" or "crafting" should try their hand at dollmaking. It challenges the hands to get all the stuffing and the stitches where you intend them to go. It exercises the brain by presenting fairly easy engineering puzzles. And it warms the heart to sense a character coming to life in your hands. Everyone loves a doll. On one level they elicit childhood nostalgia -- child's play. On another level, they are uncanny -- "Child's Play," starring Chucky. There is always a little magic in a doll, some wisdom in its eyes.
***
---
Books by Susan Barrett Price:
THE SUDDEN SILENCE: A Tale of Suspense and Found Treasure (2015) Thailand: lovers of ancient treasure tangle with international black markets. Delia Rivera pulls Martin Moon back into the game and their quest turns deadly. In paperback and Kindle editions.
TRIBE OF THE BREAKAWAY BEADS: Book of Exits and Fresh Starts (2011) Time after time, Mary asks herself: Do I go or do I stay? She finds her power in her ancestors: Smart women turn discontent into action. An illustrated memoir in paperback and Kindle editions.
PASSION AND PERIL ON THE SILK ROAD: A Thriller in Pakistan and China (2008) The twin forces of revenge and redemption drive Nellie MacKenzie and Taylor Jackson on a crazed adventure into the heart of Central Asia. They grapple with issues of ethics, trust, rage, and bitter heartbreak -- as well as the intrigue of the international antiquities trade. In paperback and Kindle editions.
Connect:

All pages in this website by Susan Barrett Price are licensed under a Creative Commons Attribution-Noncommercial-Share Alike 3.0 United States License.