Mad in Pursuit Notebook
Today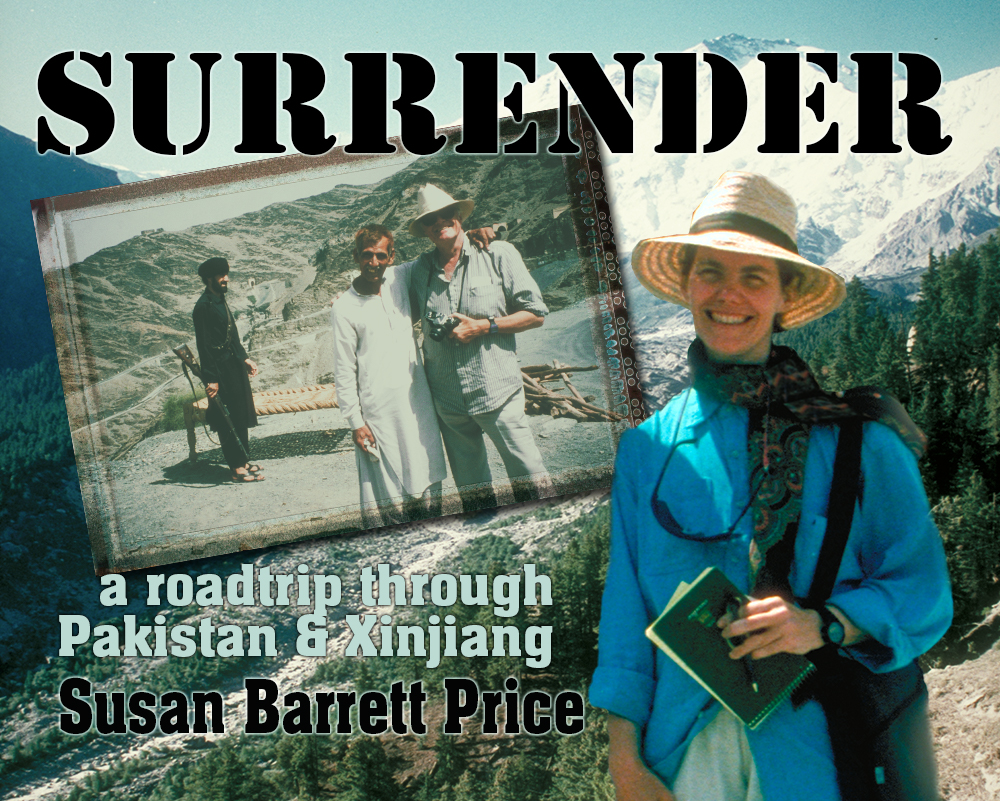 Work in Progress: Memoir Project
Feb. 2, 2017. The graphic above contains the elements of a cover. Drafting a cover and cover blurb at this stage helps sharpen my intentions. First observation: the working title "Surrender" doesn't really fit. I want to communicate that we abandoned the security of a guided tour and traveled alone to open ourselves to the experience of travel in a very different culture. When I checked on Amazon, the word "surrender" is most often used in the titles of erotic romances and self-help books (often of the religious variety). Hmmm. Then, "roadtrip" or "travelers' tale"? "Pakistan" or "northern Pakistan"? "Xinjiang" or "western China" or just "China." Subtitles are important to be found on Amazon. What are people searching for... but also sounds exciting? Your thoughts?
I wish I had a good picture of Jim and I together during that trip, but these are the best I got. That picture of me is a cutout, so I can change that snow-capped background. We look awfully cheerful, not nearly as stressed out as we felt during those five weeks.
I'm on what I'll call the official third draft.
First draft: I published my 1992 travel journal in eighteen installments on my website back in 1999 and revised them now and then, as my web skills and interest moved me.
Second draft: Starting in December, I began wrangling my little essays into a smoother narrative, consulting my original notebook (the one I'm clutching in the photo), fact-checking myself, and adding my perspective of 25 years later. Now it is less "look what we did" summaries and more "come on a journey with me" storytelling. I hope. All of it has been read aloud to Jim and Pat.
Third draft: Now I'm working on flow, tightening, sharpening, examining my imagery. I'm keeping it short (a tad shorter than TRIBE OF THE BREAKAWAY BEADS) in hopes that it will qualify for the Kindle Singles program. It also needs an Epilogue.
I will need to find a beta reader or two before I zoom in for the final polish.
Stay tuned... [cont'd >>>]
***
---
THE SUDDEN SILENCE: A Tale of Suspense and Found Treasure (2015) Thailand: lovers of ancient treasure tangle with international black markets. Delia Rivera pulls Martin Moon back into the game and their quest turns deadly. In paperback and Kindle editions.
TRIBE OF THE BREAKAWAY BEADS: Book of Exits and Fresh Starts (2011) Time after time, Mary asks herself: Do I go or do I stay? She finds her power in her ancestors: Smart women turn discontent into action. An illustrated memoir in paperback and Kindle editions.
PASSION AND PERIL ON THE SILK ROAD: A Thriller in Pakistan and China (2008) The twin forces of revenge and redemption drive Nellie MacKenzie and Taylor Jackson on a crazed adventure into the heart of Central Asia. They grapple with issues of ethics, trust, rage, and bitter heartbreak -- as well as the intrigue of the international antiquities trade. In paperback and Kindle editions.
Connect:

All pages in this website by Susan Barrett Price are licensed under a Creative Commons Attribution-Noncommercial-Share Alike 3.0 United States License. [The snowstorm image at the top of this page came from Wikipedia, under a Creative Commons license.]