Mad in Pursuit Notebook
Today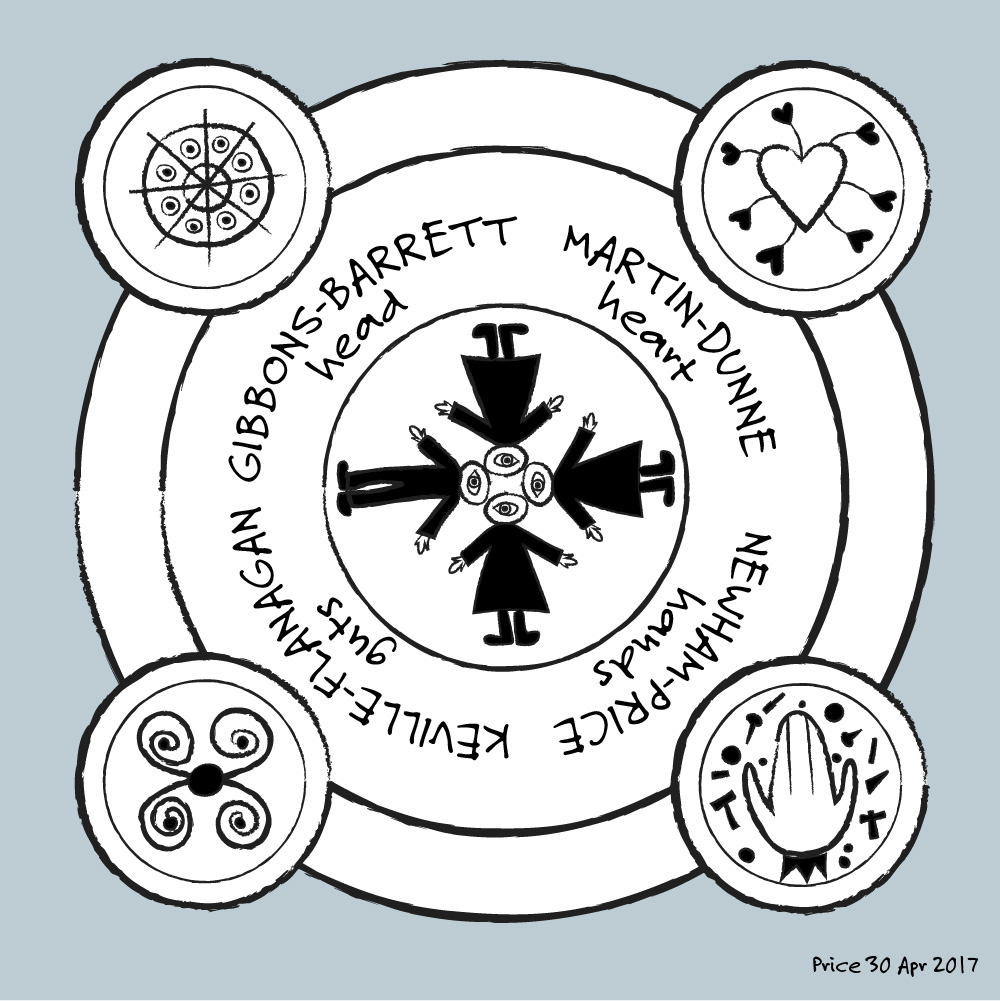 Immigrant Gifts
Apr. 30, 2017. I spent a lot of time with my ancestors this week as I researched old newspapers and revised outdated family web pages. Finding new facts and piecing together puzzles is about as close to enchantment as I get. I feel my dad's excitement at the small stuff and my mom's enthusiasm for getting it organized. Both my parents had a great memory for family stories and, if you're Irish, passing along the stories is part of the deal.
My parents, my sibs, and I are the product of four strains of immigrants and their "dreamer" children. I love that term from the Obama administration, because it describes first generation Americans so well. I'm always interested in getting to know them better. What did they have in common? What comes to mind immediately:
Pride (including "keeping up appearances" (never let them see you sweat) and "having a big idea of themselves" (not putting up with being put down).
Smarts -- valued schooling (though few made it passed 8th grade), but also having the moxie to get yourself out of jams (with a few notable misfires).
Work ethic -- a cliché about immigrants, but true. If you had the energy to get your ass out of the old country, you had the energy to roll up your sleeves and do whatever it took to make it in America.
But each of my family is a little different with regard to what stories they tell me.
It's a chilly, rainy day here on Lake Ontario, so I decided to practice my Adobe Illustrator and diagram it out. Consider the diagram above a sketch, as I work out my scheme. Keeping this brief is a challenge...
GIBBONS-BARRETT (Mom's paternal side, Ireland). "Head." The planners. The Barretts were always focused and ambitious. From figuring out the Homestead Act to creating a thriving grocery store business (Barrett's Market) to inventing a game ("Skirmish") that was registered with the U.S. Patent Office.
NEWHAM-PRICE (Dad's paternal side, England). "Hands." The craftsmen. Generations of carpenters on the Price side, blossoming into a family business with 6 sons after they emigrated to St. Louis (WJ Price & Sons). On the Newham side, tailoring, lace-making, blacksmithing. "Craft" extends to sports -- hammers and nails morph into sticks and balls.
MARTIN-DUNNE (Dad's maternal side, Ireland). "Heart." The community builders. "Chain migration" meant sister sent for sister, remittances were sent back to Ireland, and communities were built around the old village ties both in St. Louis and Chicago. They shared whatever they could spare. 20th-century immigrants who had learned from the tales of the 19th century.
KEVILLE-FLANAGAN (Mom's maternal side, Ireland). "Guts." The risk-takers. Always chasing the promise of prosperity, from Chicago to Edwardsville to St. Louis. But more fun-loving than the BARRETTS, which opened the door to thrill-seeking and bad choices -- gangs, alcohol, syphillis, back-alley abortion. Tragedy piled upon tragedy, but the lesson I learned in the end was from the single survivor, my grandmother Catherine aka Kitty Mom, whose response to sadness was song.
I'd be remiss if I didn't mention that we had a fifth stream, not represented above -- via our adopted grandfather Ewald Curran, who was the only father my mother knew. The DELANEY-CURRAN family was a combo of the BARRETTs and the PRICEs -- ambitious entrepreneurs in the printing trade (Con P. Curran Printing, STL) but also "takes a village" kind in caring for my mother, while her widowed mother managed the grocery store, and crazy fun-loving in later years as Ewald became Kitty Mom's party partner in her St. Louis tavern and out at Castlewood.
Immigrants... when I think of today's controversies, I can only relate to my own background. There was a time when Irish were not considered "white" and Catholicism was the Sharia-Law of 19th century America. And yet... here we are, recipients of their true gifts.
***
---
THE SUDDEN SILENCE: A Tale of Suspense and Found Treasure (2015) Thailand: lovers of ancient treasure tangle with international black markets. Delia Rivera pulls Martin Moon back into the game and their quest turns deadly. In paperback and Kindle editions.
TRIBE OF THE BREAKAWAY BEADS: Book of Exits and Fresh Starts (2011) Time after time, Mary asks herself: Do I go or do I stay? She finds her power in her ancestors: Smart women turn discontent into action. An illustrated memoir in paperback and Kindle editions.
PASSION AND PERIL ON THE SILK ROAD: A Thriller in Pakistan and China (2008) The twin forces of revenge and redemption drive Nellie MacKenzie and Taylor Jackson on a crazed adventure into the heart of Central Asia. They grapple with issues of ethics, trust, rage, and bitter heartbreak -- as well as the intrigue of the international antiquities trade. In paperback and Kindle editions.
Connect:

All pages in this website by Susan Barrett Price are licensed under a Creative Commons Attribution-Noncommercial-Share Alike 3.0 United States License. [The snowstorm image at the top of this page came from Wikipedia, under a Creative Commons license.]