Mad in Pursuit Notebook
Today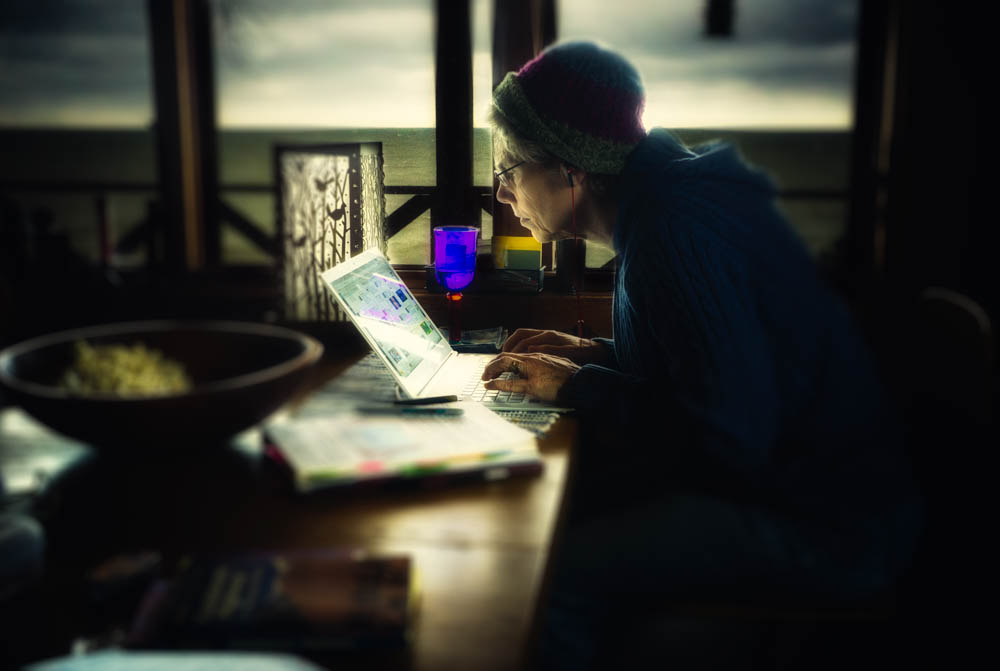 14th Annual Art-Life Review, 2017
Dec. 31, 2017. This was our first year living 100% at the Monastery of Artful Delights, our cabin on the shore of Lake Ontario. Where 2015 and 2016 required fierce energy to find this place and move our lives here, 2017 was more contemplative.
Writing
>>> I did battle with HEADLONG, a compact memoir of our 1992 adventure in Pakistan and China. My daily notebook is full of ruminations about the power of place and our true motivations for going out on a limb like that in middle age. My beta readers aren't so concerned with philosophy. They want to hear more about the Jim and Susan love story. Funny that I have such a hard time describing that... Completing the umpteenth "final" draft is at the top of my 2018 agenda.
>>> I also spent a crazy amount of time recording an audiobook version of TRIBE OF THE BREAKAWAY BEADS. It was rejected by Audible for correctable technical reasons, but my reaction was #WTF and the project got kicked to a back burner. It lives on Soundcloud for the time being.
>>> Getting my JACK KEROUAC piece licensed for broadcast by a California public radio station got me enthusiastic about radio again and I dug into a story celebrating 100 years since my Grandpa Price was drafted for World War I. The result: PRIVATE PRICE'S WAR, posted to PRX, then expanded into a video project now on YouTube. Maybe these will get more attention as we approach the 100th anniversary of Armistice Day, but for now I'm happy to claim this project as a labor of family love.
Magic gardening
Our lakeside sliver, with its wild bank, scruffy perennial beds, and random lawn, has been a source of endless fascination and study, esp. because I had never gardened before we moved here. This year I nurtured moss patches during the winter, made dandelion wine in the spring, and spiced up my summer salads with wild wood sorrel. I read up on the traditional medical uses of over 50 wild and cultivated plants on the premises. Jim and I planted a few small herb beds -- nothing very organized. After reading up on tinctures, infusions, decoctions, etc, I wound up making therepeutic salves from plantain, comfrey, yarrow, St. John's wort, and goldenrod. Ever afraid of poisoning myself, I purchased dried stinging nettle and oatstraw for nutritional infusions. I finished up the year reading about digestive bitters and digestifs, so naturally had to buy a bottle of Chartreuse to help ring out the old year.
And I learned the word pharmacognosy.
Aside from being fun, this type of botanical exploration helps deepen my sense of place.
Visual arts
Writing projects and outdoor work took up most of my energy till late fall, when I circled back to dollmaking. I like dollmaking because it's a mixed media art and demands a multitude of skills (as well as boxes and boxes of tools and supplies). I finished two new dolls: "Night" and "Bacchus." Along the way, I did some serious learning about armatures, needle-felting, polymer clay, and a number of finishes. And I got my Dremel working. I even dabbled in making dolls "real," which was more a meditation on setting an intention, visualizing an outcome, and focusing on the work.
Family history
I fell into the role of family historian by accident. It was an extension of my career, really--piecing together bits of information to reveal the story. It is writing. It is research. It is puzzle-solving. It induces a nice psychological flow as I chase down the thread of history. And of all my many web pages, family history pages are the most popular. I have an army of curious cousins.
Four stories got major attention this year.
>>> The story of my Grandpa Price's WWI experience (see above), drew me into the details of his journey across America and Europe, both the horror and the endless waiting for "what next." It brought me closer to him, made me love him more, even if I couldn't express that feeling in my writing.
>>> Discovered a 1908 newspaper article that confirmed family lore about my Great Aunt Nellie's heroism in the face of a house fire. That got me researching her again and her tragic death later from a backstreet abortion. That project needs to be re-opened.
>>> Newspaper research also gave new facts and color to the gangster days and tragic death of my Great Uncle Moses R. Flanagan. Another project to re-open and "do something with."
>>> I discovered that my 3rd great-grandfather Samuel Newham got himself transported to Tasmania on a prison ship for stealing cattle near his home in England in 1835. Learning about him and his subsequent redemption, as well as about the English criminal justice system, absorbed me for days. I'm still looking for a nugget of information that would definitely prove that I don't have the wrong Samuel Newham, so his "case" is still open.
Collections
An important part of this art-life of mine is exercising proper stewardship over our collections of art and artifacts (mostly Jim's). We did get a few things cleaned out, thanks to an antique dealer in love with "old paper." No profit to be had from that these days, but there are still a few romantics in the world who prefer handling old documents to seeing them on a computer screen.
Photography
Few things are more exhilarating than creeping out on a chilly, moonless night to photograph the stars. I don't consider photographs to be part of my art-life body of work.The activity is simply nourishment for my soul and a thing to share at dawn, or at cocktail hour, or at vespers.
***
I started these year-end reviews as a form of public accountability, justifying my choice of the art-life over employment. After 14 years, I also find myself facing old age and the inevitable softening of my mental acuity. Therefore, I need to make sure I'm still learning, still solving real-world puzzles, and still able to put together a coherent thought on life's great mysteries.
Goodbye, 2017! You nourished me well.
2016 Review | 2015 Review | 2014 Review | 2013 Review | 2012 Review | 2011 Review | 2010 Review | 2009 Review | 2008 Review | 2007 Review | 2006 Review | 2005 Review | 2004 Review
***
---
THE SUDDEN SILENCE: A Tale of Suspense and Found Treasure (2015) Thailand: lovers of ancient treasure tangle with international black markets. Delia Rivera pulls Martin Moon back into the game and their quest turns deadly. In paperback and Kindle editions.
TRIBE OF THE BREAKAWAY BEADS: Book of Exits and Fresh Starts (2011) Time after time, Mary asks herself: Do I go or do I stay? She finds her power in her ancestors: Smart women turn discontent into action. An illustrated memoir in paperback and Kindle editions.
PASSION AND PERIL ON THE SILK ROAD: A Thriller in Pakistan and China (2008) The twin forces of revenge and redemption drive Nellie MacKenzie and Taylor Jackson on a crazed adventure into the heart of Central Asia. They grapple with issues of ethics, trust, rage, and bitter heartbreak -- as well as the intrigue of the international antiquities trade. In paperback and Kindle editions.
Connect:

All pages in this website by Susan Barrett Price are licensed under a Creative Commons Attribution-Noncommercial-Share Alike 3.0 United States License. [The snowstorm image at the top of this page came from Wikipedia, under a Creative Commons license.]