Mad in Pursuit Notebook
Today
Dollmaking: "Zuzu and Zim" Completed
Feb 3, 2018. (cont'd. from Jan. 23) The image above shows the completed dolls, folkartsy and lumpy with imperfections, yet balanced and expressive. My process continues below.
Heads, more armature, and base layer. After the wire and epoxy armature, I tackled the heads using Premo clay. Kept the faces simple and cartoonlike, aiming for realism in their expression rather than their features. Started making clay canes to slice into veneers for their hats. I baked them at 275 for 10 minutes for easier handling.
I added chunks of crumpled aluminum foil, taped to their chests for added dimension (and boobs for Zuzu). I began layering on strips of conditioned black clay as a base for their bodies and attached their heads to the neck wire with generous globs of Apoxie Sculpt (which air-dries). If I had it to do over, I'd improve my neck connection engineering. I would have also added bamboo skewers as backbones. The clay is heavier than other doll material and Zim began to sag. (I later inserted a length of 20-guage wire into his spine, which helped but wasn't really adequate.)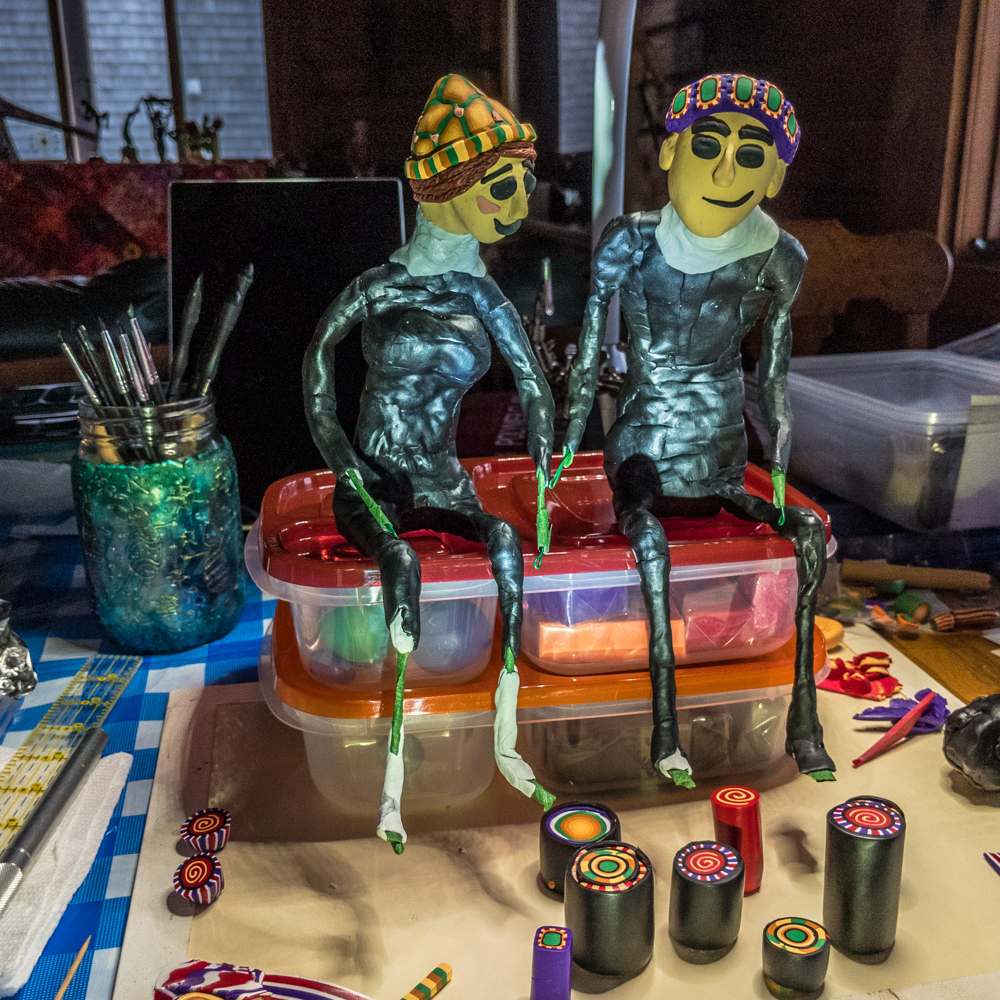 Canes. Using slices off clay canes derives from the ancient art of bead-making, perfected by glass-makers in the Roman Empire about the time of Christ. Venetian glass-makers in Murano revived the art in the 16th century with their popular millefiore (thousand flowers) beads. I found lessons in books and videos and set to work learning to construct, then reduce clay canes (see samples in image above). My simple canes weren't technically difficult--just required lots of patience. I also used an extruder to fabricate what are referred to as "mod," "retro," or "Klimt" tiles, which I used for Zim's jacket and Zuzu's pants. The process of "wallpapering" the dolls was fun. It took me away from my impulse toward realism and literalness and smack into the arena of whimsy and folk art.
Hands and feet. I left the hands simple, to go with the cartoon faces. I had fun constructing their boots.
Surface finish. Once the clothing veneers were all in place, it took many hours to smooth down the surfaces and apply little patches. Clay artists usually blend the edges of their tiles for a completely smooth surface, but (in the spirit of the Modernists) I don't mind that you see the process behind the illusion. Zim needed additional remedial engineering because he was tipping forward, so I added some wedges of "muscle" under his thighs.
Curing. I was sweating bullets about curing the clay, fearful that my wonky methods had trapped too much air or that my poor engineering would lead to cracks and/or dismemberment. After more research, I decided to cure them on their backs, in a Pyrex pan, lying in a bed of cornstarch (see image below). I also double-checked the temperature of the oven, to make sure it was actually 275. For good measure, I poked a needle into the core here and there to allow air to escape.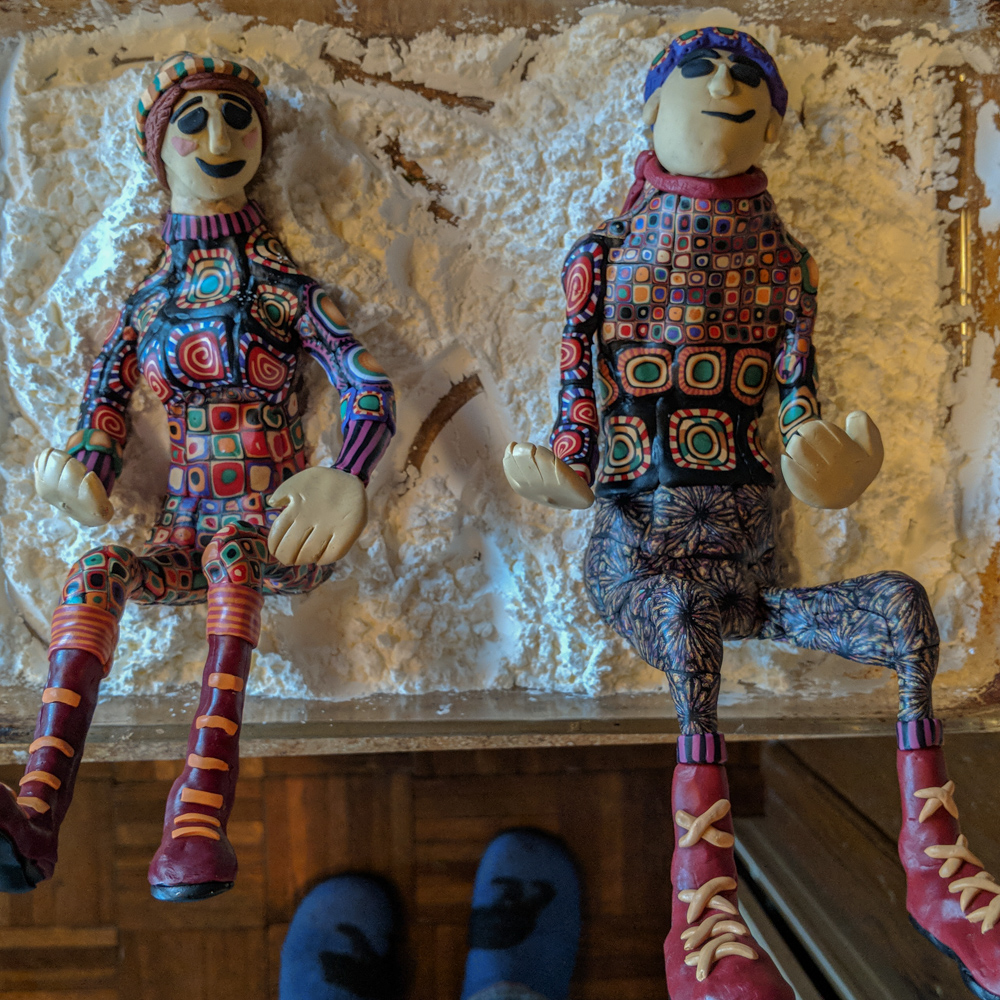 Success! Two hours in the oven and Zuzu and Zim emerged without a crack. And the cornstarch protected them from getting shiny spots where they lay. I love the creamy matte finish.
Conclusion. The dolls turned out great -- but will I make more this way? It was a much bigger project than I'd anticipated. I wanted 100% clay surfaces to create art for our porch railings, but now these have too much work in them to leave them outdoors in the elements.
No single aspect of this project was too technically difficult for me, but nothing about it was casual. I started the wire armature on Jan. 20, so worked a couple-to-several hours a day for 13 days on it. The beginning--wrangling with shapeless wire--was the hardest part. For someone accustomed to manipulations on a computer screen, real-world 3-D is a challenge.
The millefiore veneers are the flashiest component, but getting them sturdily sitting on their butts is my proudest achievement.
***
---
THE SUDDEN SILENCE: A Tale of Suspense and Found Treasure (2015) Thailand: lovers of ancient treasure tangle with international black markets. Delia Rivera pulls Martin Moon back into the game and their quest turns deadly. In paperback and Kindle editions.
TRIBE OF THE BREAKAWAY BEADS: Book of Exits and Fresh Starts (2011) Time after time, Mary asks herself: Do I go or do I stay? She finds her power in her ancestors: Smart women turn discontent into action. An illustrated memoir in paperback and Kindle editions.
PASSION AND PERIL ON THE SILK ROAD: A Thriller in Pakistan and China (2008) The twin forces of revenge and redemption drive Nellie MacKenzie and Taylor Jackson on a crazed adventure into the heart of Central Asia. They grapple with issues of ethics, trust, rage, and bitter heartbreak -- as well as the intrigue of the international antiquities trade. In paperback and Kindle editions.
Connect:

All pages in this website by Susan Barrett Price are licensed under a Creative Commons Attribution-Noncommercial-Share Alike 3.0 United States License. [The snowstorm image at the top of this page came from Wikipedia, under a Creative Commons license.]