Mad in Pursuit Notebook
Today
Saturday's Doll, 1
24 Oct. 2021. Yes, I couldn't resist the pull of a doll to experiment on. Why am I stuck on dolls this season? I'd like to dive in and make one from scratch--been watching videos on ball-jointed dolls (BJDs), which are currently in fashion. But I am stuck on not being able to make a pretty face. My dolls are folksy, not refined, not "art" dolls. I'd like to up my game.
There is also YouTube attention to upcycling old dolls, not just for Halloween but also for creating collectible superheroes and other characters. Barbie (already a highly posable BJD, I believe) is very popular for "repaint" and "face up" projects, followed by new costuming. Also, it may be possible to create a BJD by breaking apart a standard doll and reassembling her with ball joints.
Anyway, I want to play. I bought Saturday's doll at the thrift store for $4 because she has a pretty face and sleepy eyes. 18" tall, she has no brand name or patent number.
I have no plan. I have no intention except for learning. I decided to start with her hair, which is "rooted," a big innovation when I was about eight. I was not super careful with my dolls as a kid, but I never cut their hair or dismembered them. (Well, there was that time after my brother was born when I ripped my doll limb from limb and hid it in the back of the closet. I was three. I think that was just the shock of not being an only child anymore and having to pretend I was happy about it. But that's another story...) I'm slightly traumatized at having to do damage to Saturday.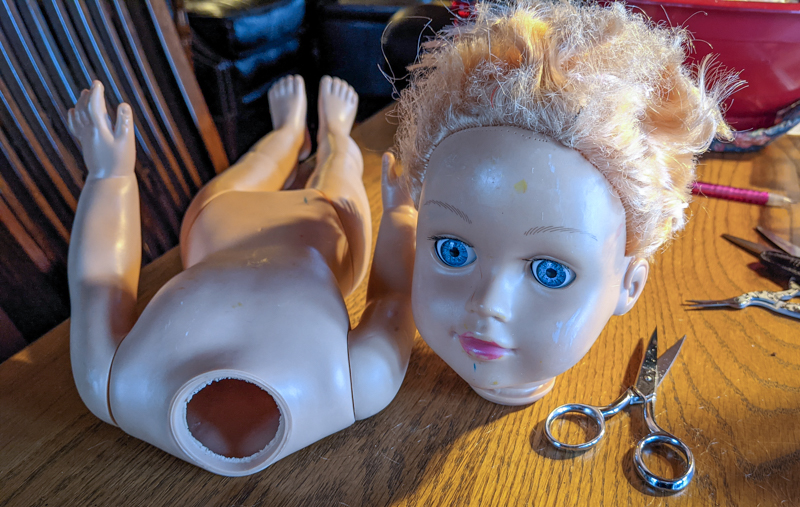 To get out rooted hair, you need to cut off the doll's long tresses and, so they instruct, pull out the hair plugs from the inside.
Saturday's neck hole was too small, even for my long forceps to get a grip on. I just had to start yanking, plug by plug, from the outside with my short, curved forceps. I have tape all over my fingers as the force required threatened to give me blisters. Oh, man.
The dense roots around her face and along her center part must have been melted or glued in place--dolly-industrial complex defeats mischievous girls.
I don't intend to reroot new hair, though I was surprised to learn there are kits for that. I'd prefer to make a weft wig, so I don't need every hole emptied out. I just need a relatively smooth surface for a wig cap. So out comes my Dremel and its sanding cylinders.
I'm thinking. Isn't the whole point really to come up with some excuse to use the Dremel?
***
---
HEADLONG: Over the Edge in Pakistan and China (2018) Traveler's tale of a 1992 adventure. A poorly planned roadtrip takes long-time lovers Susan and Jim to forbidden places and lost times. Kindle.
THE SUDDEN SILENCE: A Tale of Suspense and Found Treasure (2015) Thailand: lovers of ancient treasure tangle with international black markets. Delia Rivera pulls Martin Moon back into the game and their quest turns deadly. In paperback and Kindle editions.
TRIBE OF THE BREAKAWAY BEADS: Book of Exits and Fresh Starts (2011) Time after time, Mary asks herself: Do I go or do I stay? She finds her power in her ancestors: Smart women turn discontent into action. An illustrated memoir in paperback and Kindle editions.
PASSION AND PERIL ON THE SILK ROAD: A Thriller in Pakistan and China (2008) The twin forces of revenge and redemption drive Nellie MacKenzie and Taylor Jackson on a crazed adventure into the heart of Central Asia. They grapple with issues of ethics, trust, rage, and bitter heartbreak -- as well as the intrigue of the international antiquities trade. In paperback and Kindle editions.
Connect:

All pages in this website by Susan Barrett Price are licensed under a Creative Commons Attribution-Noncommercial-Share Alike 3.0 United States License. [The snowstorm image at the top of this page came from Wikipedia, under a Creative Commons license.]