Mad in Pursuit Notebook
Today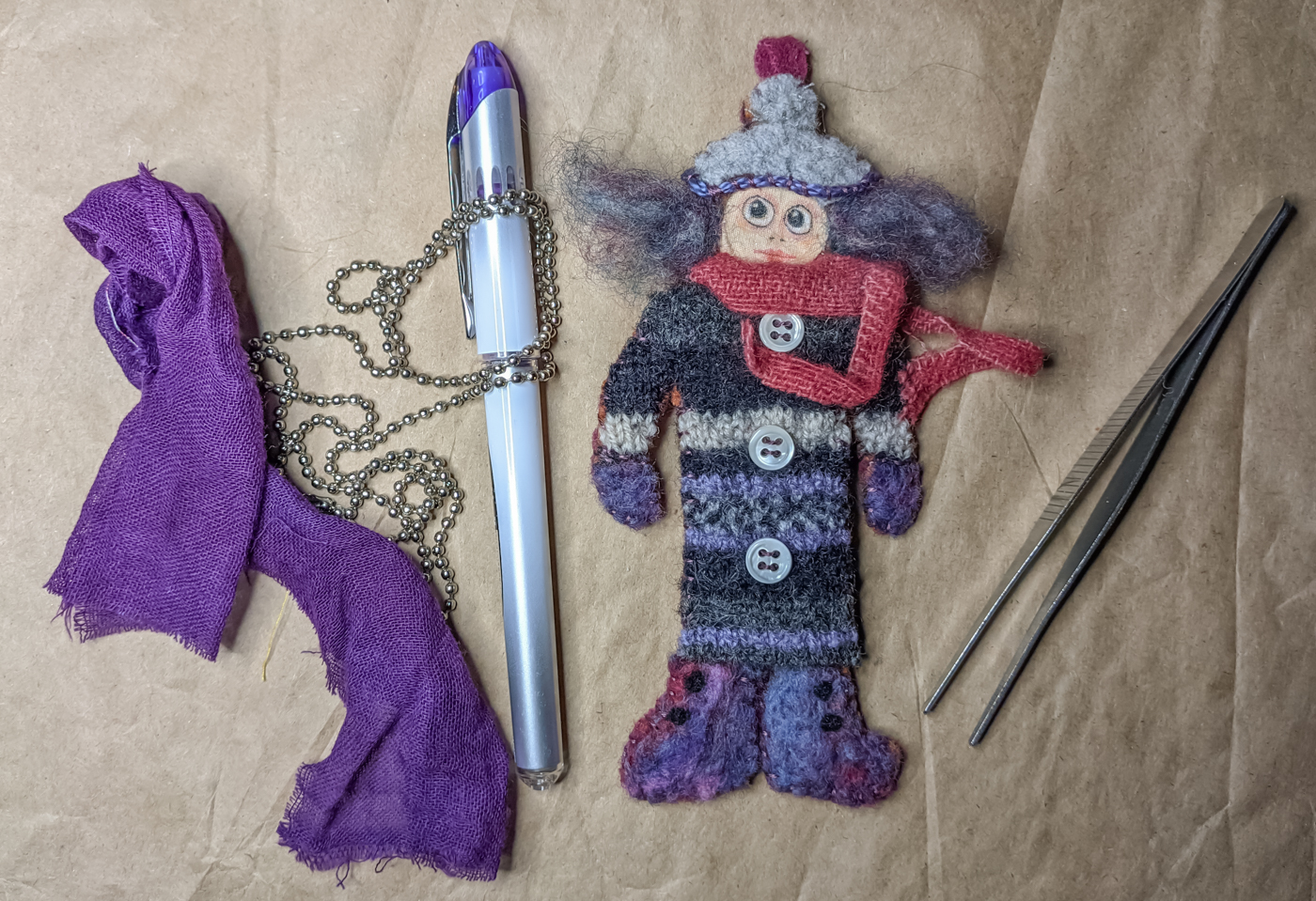 Lost & Found Project: Snow Girl
15 Nov. 2021. What is it about this time of year that makes me take inventory? Not only of woolen scarves and gloves, but also of tools, art supplies, and abandoned projects. It's a transition time, for sure. Gradually stowing the garden tools. Gradually prepping for the long cold darkness ahead.
I forget I have some things, so there's a bit of harvest time celebration in checking into all my storage boxes.
The other day I came across the "snowy day" creation above. I loved her little dismayed face but she was needle-felted onto a larger piece of fabric and I never knew what to do with her. I decided to make her wearable. So I cut her out, sewed on buttons, embroidered the edges, and added both a chain loop and a pinback. Ta-da.
I wore her to a brunch yesterday, where Jim and I finally met his three-year-old great-grandson, moved here recently from California. The pin was the first thing he noticed about me and pointed with glee, so... success.
***
---
HEADLONG: Over the Edge in Pakistan and China (2018) Traveler's tale of a 1992 adventure. A poorly planned roadtrip takes long-time lovers Susan and Jim to forbidden places and lost times. Kindle.
THE SUDDEN SILENCE: A Tale of Suspense and Found Treasure (2015) Thailand: lovers of ancient treasure tangle with international black markets. Delia Rivera pulls Martin Moon back into the game and their quest turns deadly. In paperback and Kindle editions.
TRIBE OF THE BREAKAWAY BEADS: Book of Exits and Fresh Starts (2011) Time after time, Mary asks herself: Do I go or do I stay? She finds her power in her ancestors: Smart women turn discontent into action. An illustrated memoir in paperback and Kindle editions.
PASSION AND PERIL ON THE SILK ROAD: A Thriller in Pakistan and China (2008) The twin forces of revenge and redemption drive Nellie MacKenzie and Taylor Jackson on a crazed adventure into the heart of Central Asia. They grapple with issues of ethics, trust, rage, and bitter heartbreak -- as well as the intrigue of the international antiquities trade. In paperback and Kindle editions.
Connect:

All pages in this website by Susan Barrett Price are licensed under a Creative Commons Attribution-Noncommercial-Share Alike 3.0 United States License. [The snowstorm image at the top of this page came from Wikipedia, under a Creative Commons license.]