2003
11.18.03 Stressing in San Francisco
11.16.03 High Falls Film Festival (from San Francisco)
11.15.03 San Francisco thoughts
11.3.03 Memoir: Confession of a Mean Girl I often see grown women acting like we did as girls and it made me think of my own streak of nastiness as a girl.
9.1.03 End of summer: Connecticut, Long Island
9.1.03 New talent: Sam
9.1.03 Transom.org accepts Dangling Woman, an audio version of a piece I wrote for Mad in Pursuit in 2/01. It will be part of a trilogy of personal essays. They will pay $150, which also gives them the right to air it on their New England public radio stations. How cool is that? I was walking on air for hours.
9.1.03 The Adirondack adventure continues with another episode of Babes in Boyland.
8.23.03 Adirondack Mini-V
8.18.03 Sunset Boulevard
8.17.03 Where have I been?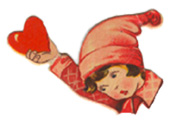 7.17.03 Great news: "The Valentine 1955" was chosen for the United Nations Association Film Festival to be held at Stanford U. in October. There were 30 films chosen on the theme of "Promotion of Universal Respect." At two minutes, mine is the very shortest. I have stardust in my eyes...
7.15.03 Discoveries in St. Louis
6.22.03 Burrowing in
6.15.03 Paddling
6.14.04 Upside-down curve
6.14.03 Where am I?
5.18.03 Arguing with God
5.10.03 Glory (International Film & Video Festival)
5.5.03 Today's entry not only celebrates the Irish-American song, but also my digital triumph over the home-recorded 78 of the 1940s. The Same Old Shillelagh was a favorite in my mother's family. If you don't get it from the song words, a shillelagh is a gnarled stick with the sole purpose (as far as I can tell) of hitting people. Imagine that: a minority culture celebrating violence in popular song...
5.4.03 Chaos and order
4.27.09 Updated my resource page on documentary filmmaking and radio with a variety of links -- my search for guidance and ways to build my skills.
4.27.03 Confidence not everything
4.26.03 Cider house rules
3.3.03 Do the right thing, George
3.2.03 She has sailed away
2.23.03 On the other hand [about men]
2.22.03 Margaritas against the madness
2.19.03 Manhattan madness
2.12.03 Another absence, another video
1.26.03 Toying with the future
1.4.03 A restless and snowy beginning to the New Year sends my thoughts spinning in strange directions: Amber Beads.
2002
12.29.02 Inspired by the idea that I might actually be able to do nonfiction filmmaking, I started a resource page on the subject.
12.18.02 I decided to try to do another entry for the Bead Bugle, this time about buying beads in the fierce Pakistan bordertown of Peshawar.
12.15.02 Honoring Jim
12.14.02 My brain is all scattered, but I did manage to settle down to do an entry in my Indonesia diary.
12.8.02 Beads & grunge
12.1.02 Making it through middles

11.10.02 The Rochester Stamp & Coin Show was full of surprises. Among the birthday presents I picked up were numinous ancient beads. I couldn't resist posting a large picture, with this entry.
11.9.02 I posted Part 3 of my Indonesia series. I decided to group my web movies under a single index page and added one my first 1-minute movies, which has never been posted: the very mythological Lakeside Encounter.
11.9.02 Where the anger goes
11.2.02 I will survive
10.27.02 Indonesia series
10.20.02 Surfacing for air
9.15.02 Watching movies
9.1.02 Catching up: should be in Japan, installing new computer instead
8.25.02 Boredom
8.18.02 Just one of those things: fishing
8.17.02 Fishing alone
8.11.02 "Ghosts" a hit!

7.28.02 Rochester visits Manhattan
7.27.02 Visit from Manhattan
7.16.02 I completed my first website for someone else: Koehler Kreations It was an enjoyable project because their product is so imaginative -- full of swirls and grace and whimsy. I dallied way too long over the graphics, experimenting with photos and photo effects. I was less concerned with conveying information than with conjuring up magic and excitement. Then the challenge was turning all my pretty little pictures into a cohesive set of web pages.
6.29.02 Selling
6.23.02 Caught a trout
6.22.02 Textures & Layers: Music
6.16.02 Dogshit conspiracy
6.9.02 Carping

6.2.02 Brother & Sister. Posted a 60-second movie -- a family classic
6.2.02 Return of Maria
5.26.02 Reality bending [movie-watching]
5.25.02 Lucy captures Rochester
5.24.02 Invasion
5.18.02 Folk video
2001
4.19.01 - 4.28.01 Ecuador
2000
10.8.00 Busted