mad in pursuit notebook
DISPATCHED FROM THE CROSSROADS
Rocktropolis, 2060
Global climate change had been good to north coast region of New York State. A decade of warm, dry winters had convinced the residents that they were ushering in a new era of agricultural prosperity and tourism.
The state's economic engine was no longer Wall Street, with the U.S. markets now trading from Chicago. No, after decades of controversy and political wrangling, the state was now generating vast wealth from natural gas hydrofracked from the Marcellus and Utica shale primarily in the Southern Tier. (See map above.)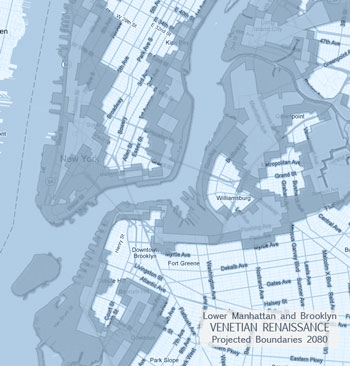 A problem: New York City had faced the surprisingly rapid rise in sea level with fortitude and imagination. Their Venetian Renaissance movement was hellbent on turning swamped shoreline into an engineering wonder. (See map on right for projected sea rise boundaries.) Taking advantage of the bedrock foundations of its building stock, it would turn streets into canals and taxis into hydrogen-powered gondolas. It would revive riverboats and a celebrate a slower paced lifestyle. Distrupted mass transit systems also ushered in a new push to have people live on the same block or in the same building where they worked. Neighborhoods were coming back. New York's ambition in the face of catastrophe was a worldwide inspiration, but the expense sucked Albany dry.
The politicians in the Rochester region happened to be equally ambitious and imaginative at that time. In back rooms, then in revival-style town meetings, they hatched their plan to merge all government entities in their metropolitan area and speak with a single voice to Albany, demanding their share of the state's wealth to meet future challenges. To hell with downstate.
They did it. In a rush of upstate jingoism, they combined all the town, village and county governments in Monroe and Livingston Counties, along with police, fire, and school districts. The coalition eagerly insisted that the consolidation would "pay for itself," so Albany green-lighted the leviathan. The Social Democrats saw the public benefits to consolidated government. The Liberty Republicans viewed it as a way to eliminate thousands of redundant governmental layers.
The first challenge of the new megalopolis was to rename itself. Making the megalopolis work would be hard enough, but drawing enough resources to do it properly meant marketing. And marketing meant having a remarkable brand. Monroeston? Doubleburg? New Rochester?Two years of endless politicking passed before they agreed on Rocktropolis -- it was big, it was foundational, it would command national, no, international attention. Rocktropolis! The Rock.
When the heavy snows began in November of 2059, Rocktropolis was unprepared. Road salt in storage facilities had melted away or hardened into stone. Snow removal equipment was rusted and in disrepair. Worse, the new City Council hadn't dealt with juristictional issues and the functional integration of emergency services had succumbed to turf wars. Rocktropolis was beautiful on paper, but it didn't work.
And worse, New York City was still getting all the tax money.
Mar 12, 2012