mad in pursuit travel notebook
DISPATCHED FROM THE CROSSROADS
Roadtrip West, September 2009: Summary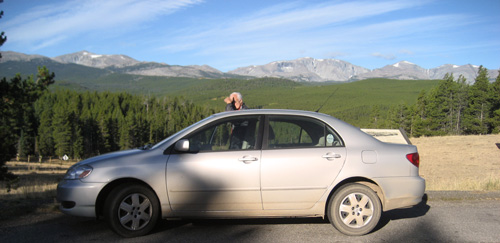 Route: A loop of 5547 miles across plains and mountains, mostly on 2 lane highways. (Zoom into map below for road details.)

View Roadtrip West 2009 in a larger map [Last bit of routing doesn't want to show. I give up.]
Accomodations: Toyota Corolla with cooler, box of maps, laptop, iPhone, binoculars, bird books and minimum of clothes. Bag of eating essentials (cookies, crackers, applesauce, etc) and utensils. Box o' wine. Couple of sleeping bags stuffed in pillow cases in case of emergency. Looked for mid-range roadside chain motels with refrigerator, microwave, and wifi.
Trip Blog: 9.10.09 Exit 29; 9.13.09 From Emporia, Kansas; 9.14.09 From La Junta, Colorado; 9.15.09 From Durango, Colorado;9.16.09 From Cortez, Colorado; 9.17.09 From Moab, Utah; 9.18.09 From Ogden, Utah; 9.19.09 From Twin Falls, Idaho; 9.20.09 From Idaho Falls, Idaho; 9.21.09 From Gardiner, Montana; 9.22.09 From Worland, Wyoming; 9.23.09 From Rapid City, South Dakota; 9.24.09 From Brookings, South Dakota; 9.25.09 From Madison, Wisconsin; 9.26.09 From Somewhere West of Cleveland, Ohio; 9.27.09 From Rochester, New York.
Photos: Used Google's (free!) Picasa this time around. Should have integrated photos into my blog as we went along, but couldn't get my act together. Uploaded a photo a day to Facebook, usually from iPhone. Picasa Web Album: online, good slide show, individual shots geotagged on Google map at lower right. Quick little movie from Picasa Album (You Tube).
9.30.2009