mad in pursuit notebook
DISPATCHED FROM THE CROSSROADS
Vintage Button Jewelry
I know I'm a sucker for beads, but I'm also coming to appreciate the value of buttons, used like beads in jewelry. Years ago, Jim brought home the first necklace to the right -- buttons cleverly crocheted together. I loved its lush feel and it was always a conversation piece.
Yesterday at All That Jazz, I spied more button jewelry and couldn't get it out of my mind.
I had an insight. I love the intimacy of beads, but what could be more intimate than a button? Getting dressed and undressed are the turning points of our day -- quiet, thoughtful, either worried or excited about what comes next -- barely conscious of what our fingers are doing... till the arthritis sets in.
I had never really thought about it, but there must also be a quiet ritual around removing buttons -- clothes headed for the rag bin or the quilting basket and buttons -- seashell, wood, Bakelite, and metal -- headed for recycling. I suddenly wished I had a collection of buttons from my grandparents' clothes. They would contain energy from their gentle, skillful hands.
But I'll have to be satisfied with someone else's buttons today. The gold-tone buttons on the necklace to the right were salvaged from womens' jackets and the cuffs of boys' blazers -- feminine curlicues and faux family crests. Not much of a work of art (sewn as they are to a braided black cord) -- but lively. And they jingle.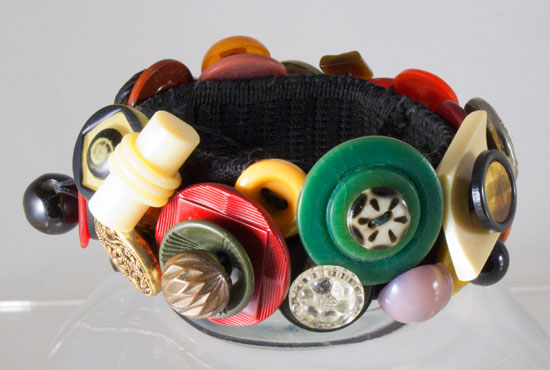 The bracelet here was displayed with an array of those creamy Bakelite bangles. I love those 1920s (?) color combos -- amber yellows, tomato reds, celery greens and ivories. The button bracelet seemed to have a little of them all. And the buttons themselves were eye-catching. Another conversation starter.
Jan 2, 2012