Mad in Pursuit Notebook
History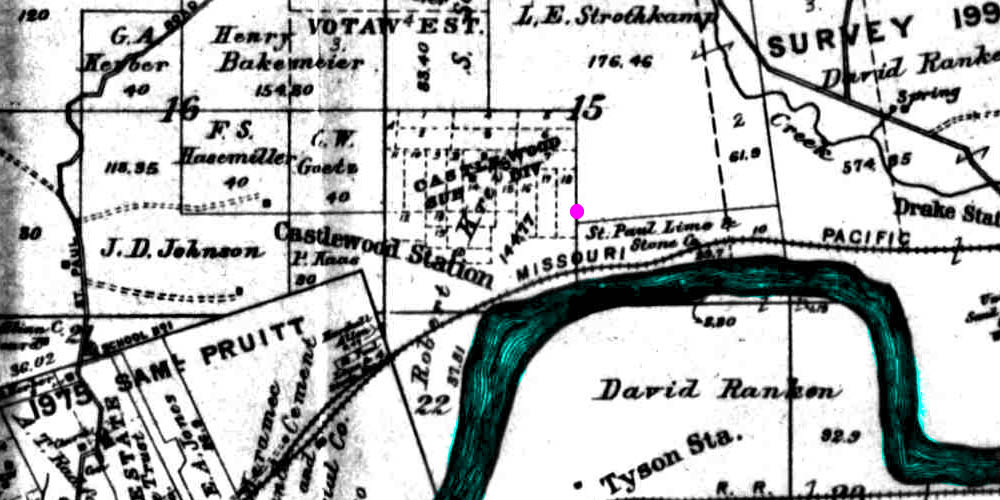 Historic Castlewood, Missouri: Early History
From looking at old property maps, I can see that there was a little subdivision at the northwest corner of the western bend of the river. In the 1909 map above, you can see Castlewood Sub Div on land owned by Robert Kre?st. On a 1878 map, the area is also parceled out and labeled St Louis Park. It occupied the lower right corner of the Castlewood Subdivision illustrated in the 1930 map below.
In 1915, the Meramec Realty Company developed the original Castlewood recreational area with 250 clubhouses, hotels, boathouses and bathhouses. On the 1930 plat map below, you can see this tract on the river's edge. It was on the railroad line, so people could flock out there by train for weekends. At some point Lincoln Beach was established on the south bank of the river and a ferry took people across from the train and clubhouse area.
Looks like the riverside tract was developed first, then the expanded Castlewood Subdivision, and finally the New Castlewood Camp Subdivision. The north shore of the river is lined with towering limestone bluffs so Castlewood had to be better known for its seclusion (and shady oak woods) than for its sunny river access.

In fact, when Prohibition began in 1919, its seclusion allowed Castlewood to become a bootlegger's paradise. In the Godfrey-DeMay article, historian Kathy Nagel French is quoted: Private clubs made "home brew... set up on Sunday night, bottled on Wednesday, iced on Friday and drunk on the weekend." ["A Park With a Past" by Kate Godfrey-DeMay. Sauce Magazine, June 2005]

1920-1933. Castlewood had its own Post Office. Extinct Towns & Old Places: Castlewood
More resources
Meramec River amusements near the Highlands: St. Louis' playground, 1890 TO 1940 This area, now Greentree Park, is located in Kirkwood, just to the west of I-270.
Legends of America. Historic playgrounds along the Meramec River.
***
---
THE SUDDEN SILENCE: A Tale of Suspense and Found Treasure (2015) Thailand: lovers of ancient treasure tangle with international black markets. Delia Rivera pulls Martin Moon back into the game and their quest turns deadly. In paperback and Kindle editions.
TRIBE OF THE BREAKAWAY BEADS: Book of Exits and Fresh Starts (2011) Time after time, Mary asks herself: Do I go or do I stay? She finds her power in her ancestors: Smart women turn discontent into action. An illustrated memoir in paperback and Kindle editions.
PASSION AND PERIL ON THE SILK ROAD: A Thriller in Pakistan and China (2008) The twin forces of revenge and redemption drive Nellie MacKenzie and Taylor Jackson on a crazed adventure into the heart of Central Asia. They grapple with issues of ethics, trust, rage, and bitter heartbreak -- as well as the intrigue of the international antiquities trade. In paperback and Kindle editions.
Connect:

All pages in this website by Susan Barrett Price are licensed under a Creative Commons Attribution-Noncommercial-Share Alike 3.0 United States License. [The snowstorm image at the top of this page came from Wikipedia, under a Creative Commons license.]