Feb. 24, 2023. What is it about maps that grab us and pull us into their world? I think a good map lets us see both the big picture plus all the fine details. It gives us a sense of scale: near and far, large and small. A good map also tells us the impact geography has on our destinies.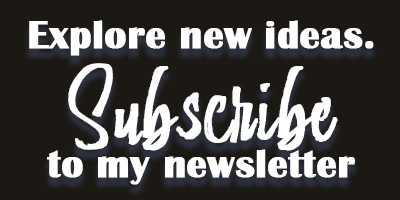 When I wrote Kitty's People, a multigenerational family saga, it made sense to start plotting addresses on a map. (Click on the image above for the full interactive experience of my Flanagans & Barretts map.)
I used the My Maps feature of Google maps. Family historians rave about using Google Earth, but that app always feels too complicated and sluggish for my purposes.
With My Maps, you can use a variety of symbols, as well as color coding. Each landmark can be annotated with both text and images. When you click on a marker, the notes pop up. (See image below.)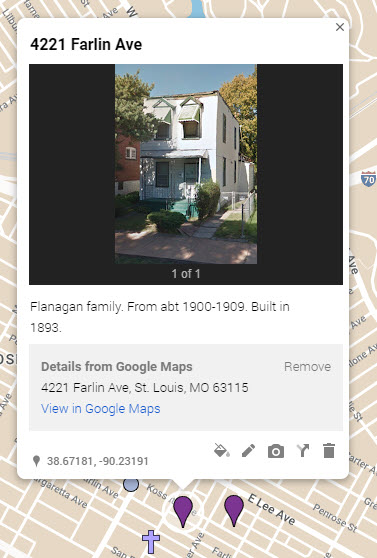 "You'll be amazed at what happens next!" Quickly, my story map became more than a collection of discrete symbols. It was a set of relationships, revealing insights, answering questions, and surfacing new mysteries.
LOOK. Kitty Flanagan and Francis Barrett worked within blocks of each other in downtown St. Louis in 1908. They must have met on the streetcar home! [Read more>>>]
LOOK. May Gaines ran a little lunchroom right around the corner from where Moses Flanagan worked. That must be how they met!
LOOK. In Chicago, Modie Flanagan lived right next door to where his brother Joe worked. How much of Modie's life of crime did Joe witness? [Read more >>>]
LOOK. The Desloge family lived right across the street from the Currans on Romaine Place. The tale that Ewald once dated the wealthy Zoe Desloge could be true!
LOOK. When poor Nellie Flanagan lay hemorrhaging in her bed, screaming with pain (and the streets of St. Louis were deep in flood waters), her husband called a physician who lived crazy far away. In 1913, Dr. Keim lived way south near the Anheuser-Busch brewery, What the hell!?
I was originally going to make this letter a full exploration of my use of maps.
But I quickly realized that each map story is a slow reveal. And you need to enjoy the actual map experience with me. So, I'm writing a little story on the coolest map insights and listing them on the Kitty's Compendium page of my website. The stories will be associated with the appropriate chapters of the book. I wrote up two map-insight entries this week: Modie and Joe Flanagan in Chicago and Kitty Makes Friends with Francis.
How about you? Do you love maps too? Do you have a map revelation story? Let me know!
Till next time!
FOLLOW me on my Facebook page, share this post to your friends, and....