Feb. 8, 2023. "How did you organize all this material?" This was one of the first questions I got about Kitty's People.
I'll tell you. I did it ass-backwards, so maybe you can learn from my meander to a useful archive using Ancestry.com and Microsoft's OneNote.
Webpage phase. Collecting family history was my parents' hobby. When I got the bug in the early 2000s, I published my finds directly to a web page. Mad in Pursuit was my big public notebook. As might be the case on social media today, this did have a few advantages: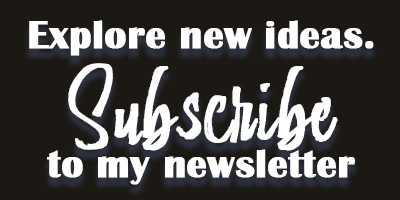 My mother could read it immediately and respond.

The webpages were found and loved by distant cousins, which spurred my motivation.

I was challenged early on to tell a story, rather than simply fill in the blanks.
The disadvantages were massive: I was designing webpages from scratch and was soon overwhelmed with information to "put somewhere."
Ancestry phase. At this point, I surrendered to Ancestry.com's online tree structure, backed up to Family Tree Maker (FTM) on my own computer. Advantages:
Easy (But I had to learn the pitfalls of simply copying the work of other genealogy buffs. Errors breed like mice, munching away at history.)

Sources were captured, so I could more easily retrace my steps to challenge or verify a finding.
By 2020, all my family history knowledge was held in Ancestry/FTM and loosely linked online stories and timelines. And of course there were physical file folders filled with random bits of information and emails from my mom.
OneNote phase. When I began Kitty's People, my research went into overdrive. I was collecting info from websites, newspapers, and other family history databases. Although I could put observations and notes into a Description field on Ancestry, once I moved on, I'd forget.
OneNote is the unglamorous notekeeping app that's part of Windows 365, usually sitting unused next to Word, Excel, and Powerpoint. It is also available free on all platforms as a standalone app.
Its metaphor is not a shoebox (enough of those!), but a notebook, with groupable tabs and nestable pages. Here's a sample of one of my pages: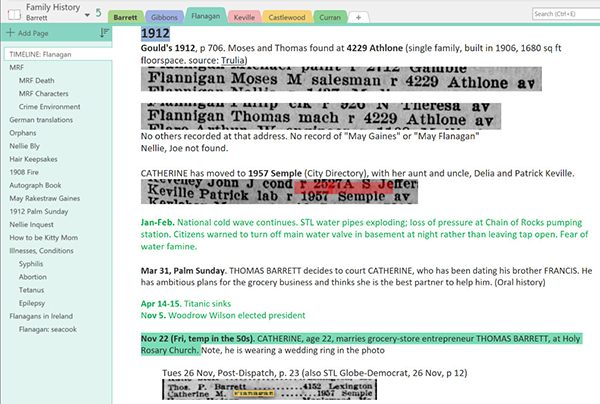 My focus was events and likely interactions. So, my first page was a master timeline for the entire Flanagan family, organized by year. I could list:
Births, marriages, and deaths not only of the nuclear family but of extended family members— events that might have triggered an action (travel, reconnection, etc.)

Dates when a disease might have become symptomatic

Names of doctors, midwives, godparents, neighbors—everyone gets researched!

Addresses of residences and workplaces from directories

Dates of Easter and Thanksgiving

Weather reports

Snipped images of buildings, documents, directory entries, news articles, obituaries, etc.

World news (wars, pandemic, etc.)
If an event like a murder got too complicated or a disease like syphilis needed detailed research, I could easily link out to a new page with the [[double bracket]] feature.
At the front of my Family History notebook I created a page for good resources. For example, I often referred to a map of the old Catholic parishes in St. Louis to check on which church a family member would have attended.
In the end, I had tabs for St. Louis, Illinois, Ireland, Fashion, each family line, etc.
Too slowly, I learned to be careful to note my sources. Finally, I realized how easy it was to add links (Ctl-K) directly back to a webpage or a file.
A constant question in writing nonfiction is "how did I know that?"
Using Ancestry/FTM as my factbase on individuals and OneNote for interactions and "color," Kitty's world became clearer and more vivid to me.
I should mention that I also use OneNote to organize fiction projects, craft projects and methods, recipes, household maintenance, collection management, and photography methods.
How about you? Do you use a formal method for organizing your passion (or real life)? I'm always searching for new life hacks.
Till next time!
FOLLOW me on my Facebook page, share this post to your friends, and....