"Great Dames Take Naps" Animation (v. 3)
A new manifesto for energized women who have successfully graduated from the rat race.
This animation can also be viewed at YouTube, where you can add comments, join my fan club, etc.
Threads & Influences
This 2-minute project has been brewing for a while. With a poke from Katherine Hepburn, I got the script written on 11/24/07 and recorded on 11/26/07. The final product weaves together the threads of a lot I've been thinking about over the past couple of years:
Chakras, Chakra Guide for Artists and work with Joanne Panarisi.
Journey Map aka Mission Map, stimulated by chakras and Joseph Campbell's adventure-of-the-hero cycle.
Recent reading about Modern Art and Surrealism, with special attention to Joan Miro.
Struggle with cartooning skills. My great dame character is Maddie, my alter-ego, developed for another project that stalled out. And, of course, Maddie was my original persona on Mad In Pursuit.
Mouseover the illustration to the right to get a larger version of the underlying rhythms of life after the rat-race(my interpretation of Tantric "liberation" and "manifestation."
Production Notes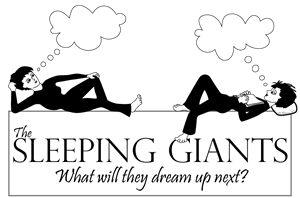 Drawings sketched by hand with pencil/paper, scanned, traced in Adobe Illustrator
Animation in Adobe After Effects
Audio Mix in Adobe Audition with royalty-free loops; narration captured with Edirol 09 digital recorder.
3.10.2008 (rev. 4.17.08)