mad in pursuit travel notebook
DISPATCHED FROM THE CROSSROADS
Ireland Highlights, #5: Odds 'n Ends
I'm going through my notes, looking for a few last tidbits to share.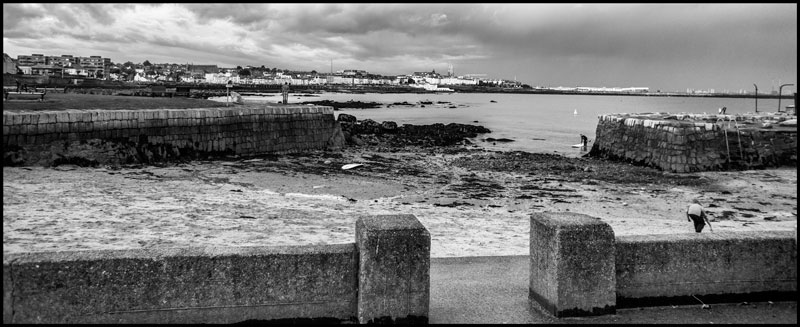 Dun Laoghaire (dun-LEERy), where Martina K lives, used to be an independent village south of Dublin, but Dublin ate it up. It still has a walkable village feel, with lots of shops. Martina's house is a block from the rocky shore -- James Joyce Tower (where the opening scene of Ulysses takes place) and Sandy Cove (with its reputation for naked swimmers in the icy Dublin Bay -- only evening surfers shown above). The ferries to Wales leave from the nearby harbor. Enya and Bono live a little south of here, each in their walled estates.
On the Wicklow tour I learned the meaning of "beyond the pale." Back in the 14th century the English created a boundary of fences and stakes that delineated the part of Ireland under their rule. To go "beyond the pale" meant (in the English eyes) you were leaving civilization behind altogether. Of course, never mind that Ireland kept the light of civilization burning during the Dark Ages of Europe.
I'd love to go back to Dublin. We barely got a feel for it. I was surprised that the famed Liffey River was kind of a creek. When someone says "a river runs through it," I always think Mississippi and am surprised when I get Genesee (remembering my "you call that a river??" moment, when I arrived in Rochester).
My dad's 1st cousin Jack Stephens and his family returned to Ireland from Chicago to take over the Stephens farm (1970s?). It was not the rural romance they'd imagined and quickly returned to urban USA. "Farming" for many of the cousins now is a weekend hobby. They raise beef cattle ("dry stock") for the elite grass-fed Irish beef industry.
Dunne women are known for their sixth sense. When Grett lost a child at birth, the family was deciding how to break the news to Granny [Mary Dunne Stephens]. But she greeted them at the door saying she'd dreamed all night of her dearly departed husband walking back and forth in front of the cottage with the baby in his arms. She knew.
Jack and Mike Stephens emigrated to Chicago (1940s?) instead of St. Louis because of the construction work there. St. Louis was better for the sisters willing to work in domestic service.
Carmel G. still has the plush bunny that my mother brought her when she was pregnant with Robert.
Before the Great Hunger, Irish farm laborers had been surprisingly healthy on a daily diet of 14 lbs of potatoes and buttermilk.
At the height of the Great Hunger, Mrs. Marcella Gerard decided she wanted the land of the Ballinlass village for her cattle and evicted the 61 rent-paying families. She warned the neighbors not to help them or they would be evicted from their land as well. Attempts to pitch makeshift tents were disrupted by police and the 270 villagers either died or slowly wandered off to who knows where. On the monument erected in their memory now ([photo left], there is a suggestion that the local Franciscan community may have helped them out.
The Strokestown Famine Museum and the Ballinlass Eviction memorial (north of Mountbellew) were painful reminders that a million Irish starved amid much general prosperity. The prevailing ruling-class attitude was that the rural Irish had brought the hunger upon themselves by their ignorance and laziness. Why should they be "bailed out" with government welfare? Politicians were adamant: Why should successful people be expected to pitch in to help dirty poor people with a lot of children? The attitude sounds strangely familiar.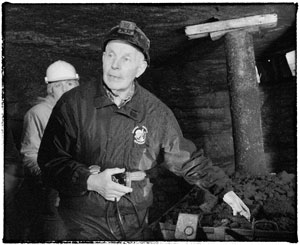 On the other hand, the Arigna Mining Experience gave a chilling (literally) account of how hard the rural Irish did work. In many areas, the young men helped with the planting in the spring and took off to work in the coal mines till harvest time. The retired coal miner who took us around [photo right] showed us how they had to squeeze into 12-inch coal seams with a pick and a candle. Our guide said he didn't mind sharing his lunch with the rats that followed them everywhere, but he never did get used to the water dripping in his ear.
My grandmother's sister Maggie was supposed to come to America in 1923, but got sick. So her sister Katie traveled on Maggie's papers. Maggie came later, in 1927. Katie also raised the money to bring brothers Mike and John to America, but they decided to stick with their farms in Ballaghduff and Cooloo. (Katie, of course, returned to Ireland in 1930.)
Mick Dunne laughs like my Grandma Price, throwing his head back, with mouth open. Sitting next to him felt like sitting next to my dad.

May 31, 2012